Four arrested over assault of girl in India's Assam state
13 July 2012

From the section

India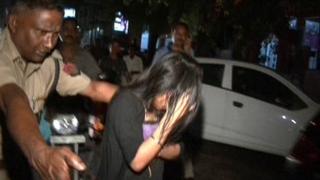 At least four people have been arrested after a group of men indecently assaulted a teenage girl on a busy road in India's Assam state.
There has been outrage after footage emerged showing men passing the girl between them, trying to remove her top.
Many critics are calling on the police to arrest those visible in the video. Police say at least 12 of the attackers have been identified from the footage.
The incident took place on Monday night in the state capital, Guwahati.
"All those identified with the brutal assault will be arrested," Assam's police chief JN Chaudhury told reporters on Friday.
He said the girl was attending a birthday party in a bar where she apparently had "heated arguments" with some young men. "The bar evicted them all to avoid a ruckus," he said.
"As she came out, some men attacked her and this unfortunate incident happened. We will do all we can to punish the culprits," Mr Chaudhury said.
The incident has so angered residents of Guwahati, some have put up a billboard in a busy city area, demanding tough action against those involved.
The chair of Assam State Women's Commission Neera Baruah has also promised action against the girl's attackers.
But this is the second such incident reported from Assam in recent weeks.
A female lawmaker from the state's ruling Congress party, Rumi Nath, was recently beaten up by a 100-strong crowd in the southern town of Karimganj, apparently for marrying a Muslim man without divorcing her first husband.
Five years ago, the stripping and assault of a tribal woman in full public view in Guwahati outraged the entire country.
Assam has a high rate of crime against women - a shocking 36.9 per 100,000 a year - against the national average of 18.9.