Indian athlete Pinki Pramanik leaves jail
11 July 2012

From the section

India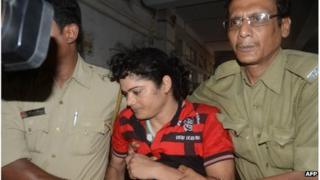 Pinki Pramanik, a female Indian athlete arrested on charges of rape and claims that she is actually male, has left jail a day after she was granted bail.
She walked out of Dum Dum prison in Calcutta at about 09:30 (0400 GMT).
The athlete described the case against her as "a conspiracy" and vowed to clear her name.
Ms Pramanik, who won several medals for India, was arrested in West Bengal state last month after a complaint from her live-in partner, who is a woman.
As she left jail on Wednesday morning, her father Durga Charan Pramanik was there to receive her along with former sportswoman-turned-politician Jyotirmoyee Sikdar.
They placed a garland of flowers around her neck.
Ms Pramanik said her time in jail had been a tough test.
"What can I do? It was my bad luck. That's why I am going through this," she told reporters, adding that she had not decided whether to take legal action against her partner.
In the past few weeks, activists and human rights groups have protested against the "mistreatment" of Ms Pramanik after she was escorted by male police and forced to undergo several inconclusive gender tests.
A mobile phone video of Ms Pramanik undergoing the tests has allegedly been posted on the internet.
Ms Pramanik won gold in the 4x400m relay in the 2006 Doha Asian Games and a silver in the same event at the 2006 Melbourne Commonwealth Games.
She also won three gold medals in the 2006 South Asian Federation (SAF) Games in Colombo when she won the 400m, 800m and 4x400m relay events.