The degradation of Pinki Pramanik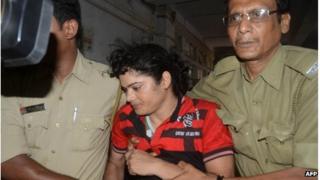 This picture tells the story of Pinki Pramanik, a female athlete arrested on charges of rape and facing claims she is actually male.
You can see a policeman groping the feted athlete in the full glare of cameras as she is led away after her arrest last month. Ms Pramanik looks harried and helpless. There are no woman constables in sight, as should have been the case.
Ms Pramanik, by the way, is one of India's most accomplished athletes. The 26-year-old has picked up a host of gold and silver medals in relay events at international competitions.
She was arrested last month after her live-in partner, who is a woman, charged her with rape. Ms Pramanik denies all charges. Investigations, it is hoped, will reveal the truth.
Meanwhile, Ms Pramanik is living through hell.
She has been lodged in the male ward of a prison in Calcutta, subjected to a battery of inconclusive gender determination tests and herded between prison and court by male policemen. When she went for a medical test, somebody recorded it on a mobile phone and posted the video on the net, where, apparently it has gone viral. As if this was not enough, Ms Pramanik has also lost her job with Indian Railways.
Sections of the local media have reported on her relationship with her partner in lascivious detail. Her fellow athletes have talked about a history of "rough behaviour" and how she "lived on the edge", without elaborating. They talk about her being a "late-nighter who enjoyed the good things in life". Her estranged partner talks about how Ms Pramanik "cheated the whole world" by posing as a female athlete.
The imprisoned Ms Pramanik, obviously, cannot respond.
Human rights group are understandably outraged. They say Ms Pramanik has been stripped of her dignity by the state, which should be protecting her rights in the first place. Her custody has been extended as she is being taken through inconclusive gender determination tests in poorly-equipped laboratories. "Why should she be subjected to such harassment and degrading treatment?" asks rights activist Sujato Bhadra.
The travails of Pinki Pramanik prove how the state - and sections of the media - can destroy the lives of the weak and the different in India.
Ms Pramanik, who quit sport two years ago after a road accident, comes from a poor village in West Bengal, which is ringed by Maoist rebel strongholds. She has no rich and powerful friends. And now her sexuality is under a cloud. All this makes her a helpless outlier and an easy target.