Pranab Mukherjee files nomination for president poll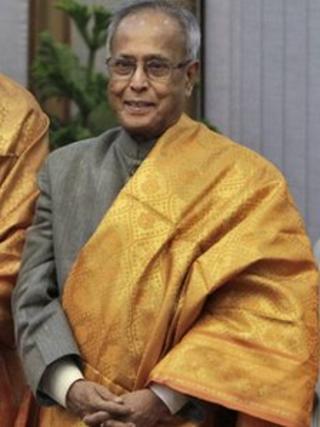 Pranab Mukherjee has filed his nomination as the presidential candidate of India's governing Congress party-led alliance.
Mr Mukherjee was accompanied by Congress president Sonia Gandhi, PM Manmohan Singh and senior Congress leader Rahul Gandhi.
Leaders of several smaller alliance partners were also present.
Elections for India's 13th president will be held on 19 July. The winner will replace Pratibha Patil.
Mr Mukherjee is a front-runner for the presidency. He resigned as India's finance minister on Tuesday.
Congress chief Sonia Gandhi has appealed for cross-party support for the 77-year-old veteran politician.
PA Sangma, the candidate of the opposition Bharatiya Janata Party, is due to file his nomination later in the day.
The presidency is largely a ceremonial post but with a fragmented electorate often throwing up precariously placed coalition governments, a lot depends on his or her judgement and impartiality.
Mr Mukherjee has held a string of top portfolios during his career, including the foreign, home, defence and trade ministries.