India PM Singh: Revive economy's animal spirit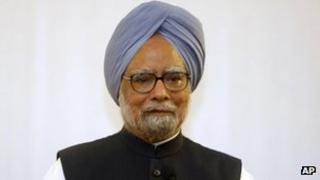 Indian PM Manmohan Singh has urged his officials to come up with measures to revive the economy's "animal spirit".
His remarks came days after he took over the finance portfolio from Pranab Mukherjee who resigned in order to run for president.
Mr Mukherjee left at a time when the economy has been in serious decline.
Reforms have stalled, investments have been deferred and the rupee has seen one of the biggest declines among Asian currencies.
India's economy expanded at an annual rate of 5.3% in the first quarter, the slowest pace of growth for nine years.
Mr Singh told finance minister officials at a meeting on Wednesday to "get the economy going again and restart the India growth story".
"The growth rate has taken a dip; the industrial performance is not satisfactory; things are not rosy on the investment front; inflation continues to be a problem," he said in remarks released by his office.
"On the external front, I am concerned about the way the exchange rate is going. Investor sentiment is down and capital flows are drying up."
Mr Singh said there were "problems on the tax front" and the insurance sector was slowing down "which is not normal in a country with large unmet insurance needs".
"In the short run we need to revive investor sentiment, both domestic and international," he added.
Earlier this week India announced a number of measures to prop up the rupee, which has been falling against the US dollar.