Maharashtra forest guards 'to shoot poachers on sight'
23 May 2012

From the section

India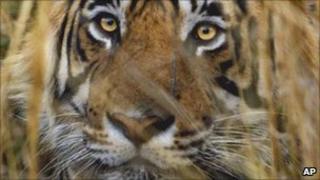 Forest guards in India's Maharashtra state have been told to shoot poachers on sight to curb attacks on tigers.
"I have given you weapons - use them against those you find hunting tigers," state forests minister, Patangrao Kadam, said he told the guards.
Other officials confirmed the order, but stressed it was "a last resort".
The Wildlife Protection Society of India says 14 tigers have been killed in India since January, with eight of them poached in Maharashtra alone.
Tiger numbers have shrunk alarmingly in India in recent decades. A 2011 census counted just 1,706 tigers in the wild.
A century ago there were estimated to be 100,000 tigers in India.
'Take them down'
Correspondents say the minister's "shoot-on-sight" plan - and the state government's reported view that injuring or killing suspected poachers would no longer be considered a crime - raises many legal questions.
Mr Kadam's comments are also bound to face opposition from rights groups who have long accused India's security forces of unprovoked killings in "fake encounters".
But speaking to the BBC's Zubair Ahmed on Wednesday, Mr Kadam did not apologise for his comments a day earlier - anyone sighted inside a sanctuary would be regarded as unauthorised, he said.
Other officials tried to play down his remarks. One forest department official said the shoot-on-sight orders were meant to be in the last resort after all other attempts to stop hunters from poaching had failed.
"The officers are often fired back because they don't fire at hunters properly. They have been told they can take them down in such cases," the officer said.
Mr Kadam had told reporters on Tuesday that the government would recruit 523 armed guards and deploy them in the state's four forests. Forest guards should not be "booked for human rights violations when they have taken action against poachers", the Associated Press quoted him as saying.
The minister said the state would also deploy more rangers and jeeps in the forest and secret payments would be offered to informers who give tips about poachers and animal smugglers.
Maharashtra's chief wildlife warden, SWH Naqvi, said poachers generally hunted tigers at night and encounters between guards and poachers were rare.
"We hardly ever come face-to-face with poachers," he said, AP reports.
Mr Naqvi said the state's offer to pay informers from a new government fund worth about 5m rupees ($90,000) would be more effective in curbing wildlife crime.
"We get very few tips, so this will really help."