Has India's government stalled?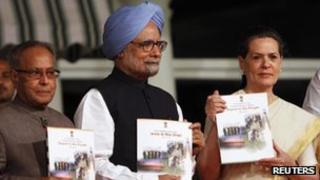 "I will be the first person to say we need to do better," Prime Minister Manmohan Singh said on Tuesday, while releasing his troubled government's report card on three years in office during its second consecutive stint. "But let no one doubt that we have achieved much."
Mr Singh rolled out an impressive list of achievements.
With nearly 7% growth despite a global downturn, India remains one of the fastest growing economies in the world, he said. Farm growth, personal incomes, foreign direct investment, tourism revenues and social spending are up. There is more generation of electricity in an energy-starved country. More money is being given to states. Poverty, joblessness and inflation are down. People bought nearly 100 million new mobile phone connections last year.
But many things don't quite square up, say critics.
The government began the year, they say, gloating about a 9% growth despite signs of a slowdown - then rapidly downsized its ambition. If you factor in the near 9% average inflation last year, real personal incomes grew in single digits, and not 14% as the report card claimed. Vast swathes of the country, including many of the main cities, go without electricity for several hours every day despite the uptick in generation. India's red-hot telecom industry is now bedevilled by charges of rigging spectrum auctions, and large scale cancellation of licenses.
Inflation is menacingly on the rise again, and social welfare spending is hobbled by leakage and graft. Mr Singh says more money is being given to states at a time when a number of them, including one (West Bengal) ruled by Congress' own ally (Mamata Banerjee of Trinamul Congress) have been accusing the government of not listening to them on major policy moves. The government is also seen as being unable to make up its mind as to who really constitutes the poor. Economic reforms have stalled, investment has slowed and the rupee is tanking.
But the real problem, as analyst Pratap Bhanu Mehta says, may lie in Congress, the ruling party behind the government. He says the party has put India's growth story at risk, presiding over "an appalling administration where institutions are unravelling", pushing myopic social security schemes, and being out of sync with fast changing federal impulses. It is a government which many believe - and some opinion polls suggest - has lost its authority.
The government faces elections in two years. There is still time, say analysts, to seize the initiative and push through some key reforms and do, as Mr Singh says, "better".