Deadly train crash in south India's Andhra Pradesh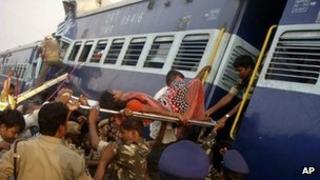 At least 24 people were killed and 25 injured when a passenger train collided with a goods train in India's Andhra Pradesh state.
The Bangalore-bound Hampi Express crashed into the stationary goods train at Penneconda railway station early on Tuesday, a railway spokesperson said.
Four coaches were derailed and one of them caught fire, reports say.
Train accidents in India have killed 1,220 people over the past five years, railway officials recently revealed.
The immense railway network connects every corner of the country, operating 9,000 passenger trains a day, carrying some 18 million people.
"Sixteen people died in the fire which broke out in one of the coaches of the train," police chief of Anantapur district Charu Singh told the BBC.
A railway official said most of the victims were labourers who were travelling to Bangalore from Bellary and Hospet in neighbouring Karnataka state.
Durga Das, a senior official of Anantapur district where the incident happened, said 18 passengers had been rescued from the Hampi Express. Rescue workers fear that more passengers may be trapped in the train.
Meanwhile, Railways Minister Mukul Roy visited the accident site and ordered an inquiry.
A railway spokesperson told the Press Trust of India news agency that it was not yet clear what caused the accident but "the driver of Hampi Express [may have] overshot the signal".
India has set up a $3.6bn (£2.4bn) railway safety fund to make travelling safer for millions of passengers who use the transport network every year.