Cricketer Luke Pomersbach charged with assault in India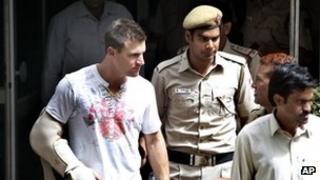 An Australian cricketer has been charged with molesting a woman and assaulting her fiance at a hotel in India's capital, Delhi.
Luke Pomersbach, who plays for Bangalore in the Indian Premier League (IPL), was arrested on Friday morning.
He denied all charges in court and was granted bail. The alleged incident took place on Thursday night after his team took on the Delhi Daredevils.
The IPL, which is in its fifth year, has been mired in controversy recently.
On Tuesday, five players were suspended following corruption allegations against them.
A day later, officials of the Mumbai Cricket Association were involved in an ugly spat with Bollywood superstar Shah Rukh Khan at the Wankhede Stadium with each side accusing the other of abusive behaviour.
'Indian Problem League'
Luke Pomersbach, his right arm heavily bandaged, was charged with molestation, assault and house-breaking. Reports say he could face up to three years in jail if convicted.
It is alleged the 27-year-old Royal Challengers Bangalore (RCB) player groped an American woman after a post-match party in the five-star Hotel Maurya.
"A US national, staying at Hotel Maurya, was molested by Luke Pomersbach, an Australian player of RCB, when they were partying in her room," Delhi Police said in a statement.
When her fiance intervened, he was punched by Pomersbach, police say. The couple have been receiving treatment in a Delhi hospital.
Pomersbach's lawyer Ajay Bhargava said his client denied the charges. "We have received interim bail and my client has to appear in court tomorrow," he told AFP news agency.
According to reports, Pomersbach maintains he entered the room with the woman's consent.
Pomersbach has not played for Bangalore this season and team owner Vijay Mallya said he would not be selected until the case was resolved.
"Royal Challengers Bangalore regrets the incident involving Luke Pomersbach," Mr Mallya said.
"We'll ensure full co-operation with concerned authorities so that a fair investigation takes place and the issue is disposed of in accordance with law. Pomersbach will not take the field till then."
IPL chairman Rajiv Shukla said: "It's a matter for the police and law. We will wait for the police report before taking any action."
The hugely lucrative but scandal-plagued IPL has hit the headlines for all the wrong reasons this year. Some commentators have called it the "Indian Problem League".