US sanctions India 'crime lord' Dawood Ibrahim's aides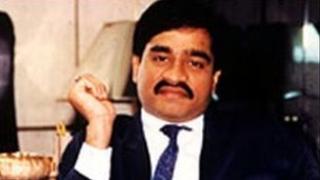 The United States has placed sanctions on two top Indian aides of former Mumbai underworld don Dawood Ibrahim.
The Treasury Department has named Chhota Shakeel and Ibrahim "Tiger" Memon as key drug traffickers.
The move is aimed at freezing their assets and curbing their access to global business and finance networks.
Dawood Ibrahim is accused of smuggling narcotics from Afghanistan and Thailand to the US, Europe, the Middle East, Latin America and Africa.
He was named a "global terrorist" in October 2003, and in June 2006, he was named by the US president as a "foreign narcotics trafficker".
The Treasury Department says Shakeel and Memon are "key lieutenants" of Ibrahim in his notorious " D Company" .
"Chhota Shakeel is Dawood's lieutenant who coordinates for D Company with other organised crime and terror groups.
"Ibrahim 'Tiger' Memon is a trusted lieutenant who controls the organisation's businesses across South Asia and is wanted by Indian authorities for his involvement in the 1993 Mumbai bombings."
Dawood Ibrahim is a "most wanted man" in India, which alleges that he is sheltering in the Pakistani city of Karachi. Pakistan denies the charge.
Delhi has charged him with masterminding the 1993 Mumbai serial bombings in which 257 people died and more than 700 others were wounded.