India Maoists rebels killed in Assam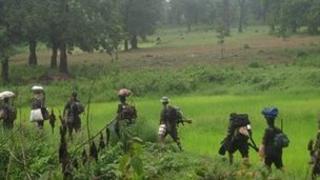 Four suspected Maoists rebels have been killed in a firefight with the police in the north-eastern Indian state of Assam, officials say.
One policeman was also injured in the fighting which took place in Tinsukia district early on Wednesday.
Among those killed in Wednesday's incident was Sanjeev, a local Maoist commander, officials said.
The Maoists have recently spread into the north-east, gaining a foothold in strategically located border states.
They are filling the void created by dwindling ethnic insurgent groups like the Ulfa.
The Maoists are active in more than a third of India's 600-odd districts.
Prime Minister Manmohan Singh has described them as the biggest internal security challenge facing India.