Rahul Gandhi visits survivors after India ferry sinking
2 May 2012

From the section

India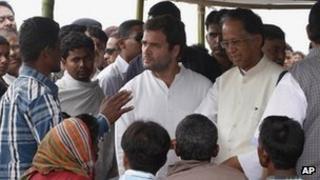 India's ruling Congress party leader Rahul Gandhi has visited the site of the ferry disaster in Assam state.
Mr Gandhi assured families that the authorities were doing all they could to find the missing victims.
Rescue workers have found five more bodies in the Brahmaputra river, where the ferry capsized in a storm on Monday, taking the death toll to at least 108, media reports say.
More than 100 people are still missing and hopes for survivors are fading.
About 150 people were rescued or swam to safety after the boat capsized.
Lax safety standards mean ferry accidents are common in India, but this is one of the country's worst.
"We shall take all measures to mitigate the anguish. All efforts are being taken to search the missing persons," Rahul Gandhi said according to the Press Trust of India.
The accident happened in the remote district of Dhubri, about 350km (215 miles) west of Assam's main city, Guwahati.
The ferry capsized and broke into two pieces during the storm, police said.
Witnesses said many passengers were swept away by the river's strong current after the boat broke up.
Officials said they believed many bodies had been carried by the river downstream to neighbouring Bangladesh.
The ferry carried no lifeboats or lifejackets and was overloaded with people and goods, police say.
Boats are a common mode of transport in the area, which is dotted with small islands and villages along the banks of the river.
Many of the boats are overcrowded with poor or minimal safety features.