'Assaulted' India MP Prabha Taviad weeps in parliament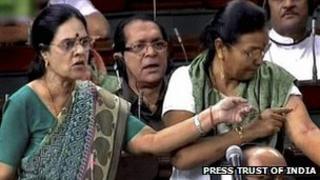 An MP from India's Gujarat state broke down and wept in parliament alleging she was assaulted by police when she went to attend a government function.
Prabha Taviad showed bruises on her arms and said her hair was pulled and she was dragged into a police car.
Police said they detained her as she was trying to hold a demonstration ahead of a function to be attended by Gujarat's Chief Minister Narendra Modi.
The incident took place in Dahod district on Tuesday.
Ms Taviad is an MP from India's governing Congress party, which in Gujarat is in opposition to the Bharatiya Janata Party (BJP).
Encouraged by senior Congress party colleague Girija Vyas, Ms Taviad tried to describe the incident in the Lok Sabha, the lower house of parliament.
But she soon began sobbing, wiping her tears with a handkerchief.
Ms Vyas, former chief of the National Commission for Women, came to her rescue and narrated the incident while Ms Taviad pointed at the bruises on her arms.
MPs from several parties expressed concern at the incident and said that "the security of MPs should not be taken lightly".
The leader of the opposition in the Lok Sabha, Sushma Swaraj, said she should take up the issue with Gujarat's chief minister.
"These are very grave allegations. I will ensure that this kind of incident does not happen again," she said.