India's former BJP chief Laxman sentenced to four years for bribery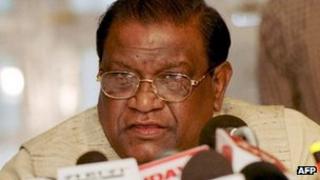 A former head of India's main opposition Bharatiya Janata Party (BJP) has been sentenced to four years in jail for taking bribes.
Bangaru Laxman was secretly videotaped accepting money from reporters posing as arms dealers 11 years ago.
A news website, Tehelka, taped secret video footage of politicians, army officers and bureaucrats taking money in connection with a fake arms deal.
Laxman, 73, and the others said they had been framed.
Passing sentence, the trial judge said it was necessary to give a signal that "rampant corruption" would not be tolerated, AFP news agency reported.
In the 2001 video, reporters posing as arms dealers offered Laxman 100,000 rupees ($1,900; £1,170) as a bribe for a military contract. Laxman was seen taking the bribe.
The website, Tehelka.com, said two of its journalists had posed as businessmen for a fake company, West End International, trying to sell fictitious hand-held thermal imaging devices to the Indian military.
At his trial in Delhi Laxman said he had accepted the money as a donation for the BJP, and had handed it over to the party treasurer.
After the video footage was shown on television channels, Laxman - who was BJP president at the time - and the then-defence minister George Fernandes were forced to resign.
India's Central Bureau of Investigation later charged Laxman under anti-corruption laws.