India clears way for compulsory marriage registration
12 April 2012

From the section

India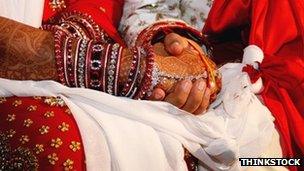 The Indian cabinet has cleared a bill for the compulsory registration of all marriages regardless of religion.
Currently registration already exists for most of the religions but not all. This will amend the Registration of Births and Deaths Act, 1969.
Six years ago, the Supreme Court said that marriages must be registered regardless of race or religion.
Millions of marriages go unregistered in India every year, which can create problems for many women in particular.
The government hopes the proposals will benefit women from "unnecessary harassment in matrimonial and maintenance cases".
Supporters of the move say it will help to ensure a minimum age for marriage, prevent marriages without the consent of both parties, check bigamy and polygamy and deter people from buying and selling young girls under the guise of marriage.
Critics, though, say the state is interfering and the law unnecessary.
The cabinet also approved amending the Anand Marriage Act of 1909, which is for the country's Sikhs and a long-pending demand from the community.
They pointed out that Muslims, Christians, Parsis and Jews have separate marriage acts.
Many Sikh women have been exploited by men from abroad and without a legal document to prove their marriages, legal redress has been difficult.
The bill now has to be passed by parliament and approved by the president before it becomes law.