India's centenarian Mr Universe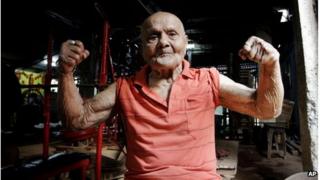 He is 100 years old, but former Mr Universe Manohar Aich still has one unfulfilled wish.
When he reached his centenary on 17 March, the world, it seemed to him, lined up on the doorstep of his Calcutta home to present him with cakes, flowers and good wishes.
But the one thing Mr Aich has not done is meet his hero, Arnold Schwarzenegger, the American actor-turned-politician and fellow Mr Universe.
His admiration for Mr Schwarzenegger began when he saw a Hollywood film starring the actor two decades ago. "I have given up on bodybuilding, but he is in his prime. I cannot travel to meet him because of my age," says Mr Aich.
Until as recently as 2008, visitors would find Mr Aich, then 96 years old, at the gym, either to keep himself in shape or to mentor students.
That stopped after he suffered a stroke in 2010; only the second occasion, says Mr Aich's daughter Bani Banerjee, that her father had to be admitted to hospital.
Strict control
"I have been able to live healthily because I have given maximum importance to my body. I have regularly exercised and led a disciplined life," says Mr Aich.
His family members speak about the strict dietary control that Mr Aich has maintained by avoiding over indulgence. Rice, lentils, vegetables and fish are consumed in small, measured proportions and addictions are shunned.
"But above everything, it has been his daily body-building regimen. My father has known nothing else other than his body," says Ms Banerjee.
Mr Aich peddled coconuts outside Sealdah railway station in Calcutta as a refugee from East Pakistan in 1949, worked as a clerk at British Railways in 1951 and ran unsuccessfully for parliament in 1991 for the Hindu nationalist Bharatiya Janata Party (BJP).
But it is his physique that has granted him a regular income, fame and, subsequently, legendary status.
When the 1.49m- (4ft-10.5in) tall bodybuilder competed in the 1952 Mr Universe contest in London, his statistics were awe-inspiring: bicep 46cm, chest 1.2m when swollen, forearm 36cm and wrist 16.5cm.
It was the perfectly-chiseled, muscle-rippling V-shaped frame that eventually bagged him the coveted top prize in the short category.
The previous year Mr Aich had placed second in the contest, also held in London. It was his resolve to win the title that made him stay in the UK with a job with British Railways.
It was also the time when he began to be known as Pocket Hercules.
"In London, whenever I found time from work I would train in a gym. It paid off," he says.
It is a habit that goes back to his childhood when as a six-year-old he would pursue physical exercise while kids his age played football.
Growing up in Bangladesh, then part of undivided India, he survived bouts of the dreaded Kala-azar disease and Asiatic cholera without requiring hospitalisation.
Later, after his father became bedridden, the 15-year-old needed to earn an income.
He started by displaying "body prowess" at village fairs and as part of the travelling show of well-known Indian magician, PC Sorcar.
While Mr Sorcar mesmerised with his magic, Mr Aich would stun audiences by bending iron bars with his teeth and neck, using his belly to balance on the sharp edge of a sword or dragging weights of more than 200kg.
Cool customer
He added other skills, such as tearing apart large books and rippling his belly muscles to the accompaniment of songs from the classic Bollywood film Mera Naam Joker, to his repertoire when he joined circus companies later on.
An effort by Mr Aich to start his own circus, though, failed commercially because, as his daughter explains, he did not understand finance well.
Nevertheless, seated in the Aich family room surrounded by the trophies and citations received over the years, Ms Banerjee relates a story that adds further muscle to the bodybuilder's legend.
After getting a job as a physical instructor in the Royal Air Force in British India, Mr Aich led his team to rebel against what he felt was the "oppression" of their British commanders.
An argument ensued and Mr Aich ended up slapping a British officer, for which he was sent to a Calcutta jail a year before India achieved independence from British rule in 1947.
With little else to do in jail, Mr Aich practiced his metal bending skills on the bars of his cell.
The horrified guards kept an extra watch on him and soon realised that he was only interested in grooming his body. To encourage his passion, the jail authorities provided him a special protein-rich diet.
Mr Aich lives with his sons, daughters, grand-children and great grand-children, who say common ailments or even serious ones are unknown to the centenarian.
He is also known to shake off stress and tension easily - "a cool customer" as one of his grand-children says.
At 100, Mr Aich has lost his teeth, but his wrinkled skin can not completely conceal the carefully sculptured physique of his prime.
"I have been blessed with this body," he says. "What else does one want?"
Shamik Bag is a Calcutta-based freelance journalist