India minister Anand Sharma in key Pakistan trade trip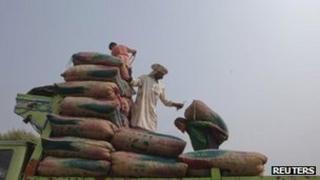 India's Commerce and Industry Minister Anand Sharma has begun a three day visit to Pakistan to boost trade between the two rival neighbours.
Last year Pakistan and India agreed to boost trade. Islamabad had previously linked improvements to resolving the dispute over Kashmir.
Mr Sharma's talks in Pakistan will focus on doubling annual trade to $6bn (£3.7bn) in three years.
Correspondents say it is a significant step towards boosting peace.
India granted most-favoured-nation trading status to Pakistan in 1996 - a move designed to lower tariffs - and last year Islamabad proposed to reciprocate.
'Build bridges'
Last year, for the first time in 35 years, a Pakistani commerce minister led a business delegation to India.
Now Mr Sharma will head a 80-member-strong delegation of business leaders and officials during his talks in Pakistan, according to the state-run Doordarshan News.
He is expected to meet his Pakistani counterpart and other leaders and hold meetings with Pakistani business leaders in Lahore, Karachi and Islamabad.
"We want to build bridges of confidence and trust which is imperative to promote two-way trade between the two countries," Mr Sharma told reporters ahead of his visit.
"We hope to double this [trade] figure in a three-year period. Once direct trade through [the] land route is facilitated, there will be a manifold increase," he added.
Pakistan maintains a list of 1,945 items allowed to be imported from India. But only 108 can be moved directly by road through the overland border post at Wagah, reports say.
Major exports from India to Pakistan include sugar, cotton, man-made filaments and chemicals, while its top imports from Pakistan include fruit, mineral fuels and organic chemicals.
India and Pakistan resumed formal peace talks last year after they were broken off in the wake of the militant attacks in Mumbai in 2008.