Calcutta hospital fire: Two doctors arrested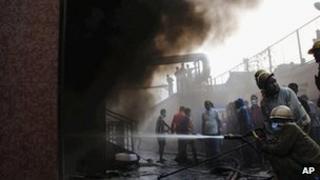 Police in the Indian city of Calcutta have arrested two top doctors of a private hospital which caught fire last month, killing 90 people.
Dr Mani Chettri and Dr Pranab Dasgupta, both directors of the AMRI Hospital, were held on Friday.
Eleven officials of the hospital have already been arrested and charged with culpable homicide.
The fire began in a basement and swept through the building. Officials say the hospital flouted safety regulations.
Those already charged include the co-founders of the hospital SK Todi and RS Goenka.
The police said the hospital's license was registered in the name of Dr Chettri, one of the leading doctors of Calcutta.
The fire began in the basement and spread through the six-storey hospital. Most of the dead were patients.
Police say there was a delay on the part of the hospital to inform fire services about the blaze.
The government has ordered a judicial inquiry into the incident and cancelled the licence of the hospital.