Pranab Mukherjee: India retail reform 'must for growth'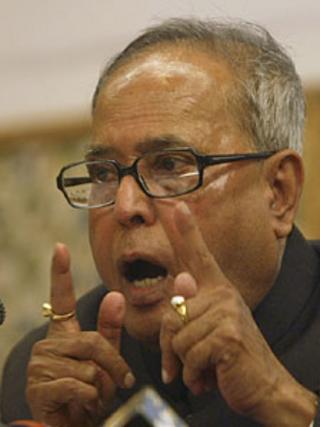 Indian Finance Minister Pranab Mukherjee has said that allowing foreign investment in the retail sector is a "must for growth" and will help farmers and consumers.
He said opponents of the move to allow global chains to open stores were guilty of "narrow politics".
The government has faced angry opposition in parliament and a strike by many smaller traders on Thursday.
Parliament was adjourned early for the ninth day in a row on Friday.
Opponents say the move to allow 51% foreign ownership of multi-brand stores will damage small retailers.
Supporters say it will improve prices to farmers and benefit consumers.
Growing anger
Mr Mukherjee told a conclave organised by the Hindustan Times newspaper in Delhi on Friday that the move would significantly reduce farm produce losses.
He said "narrow" political interests were behind opposition, and he hoped the government would be able to persuade them that it was good for the country.
Although the decision on retail reform is an executive one that requires no parliamentary approval, opponents have been pushing for a debate and vote on the issue in the lower house.
Media reports say that Prime Minister Manmohan Singh has held a number of meetings with key coalition allies to try to shore up support.
Two of the allies - the DMK and Trinamool Congress - have spoken openly against the decision.
"Given the reservation of the two key allies about the decision, the government is nervous [at the prospect of a debate in parliament] that entails voting," the Hindu newspaper said.
Some reports said the government would work over the weekend to persuade its allies to stick with it in the event of a vote in parliament, so that its stability is not compromised.
"We don't want this government to fall. We want the decision to be withdrawn. We have already said we want a discussion in parliament," Trinamool Congress's Sudip Bandopadhyay was quoted as saying by the Indian Express newspaper.
Parliamentary Affairs Minister Pawan Kumar Bansal said the government was "confident" about retaining its majority in parliament in the event of a vote.
The government insists its retail reform will create 10 million jobs.
Allowing 51% foreign direct investment (FDI) in multi-brand retail stores will open up opportunities for groups such as Tesco and Wal-Mart to open stores in India.
Such operators can currently only sell wholesale in India and not directly to customers.
On Friday, the deputy chairman of the Planning Commission, Montek Singh Ahluwalia, threw his weight behind the reform, saying it would benefit consumers and farmers.
Tens of thousands of shopkeepers took part in Thursday's day-long strike, although in some cities the action was only partially observed.