China media: US cyber-theft charges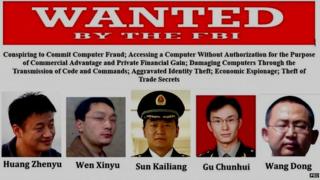 Papers criticise Washington's cyber-espionage charges against five army officers, while analysing a proposed China-Russia gas supply deal.
The US on Monday charged five Chinese army officers with hacking into private-sector American companies. China strongly denounced the move and urged Washington to review its decision.
In a strongly-worded editorial, the China Daily describes Washington's decision as "ill-advised" and "downright stupid".
"US Attorney General Eric Holder should know very well that an indictment like this has little chance of being executed. Those charged are far away in their home country, where neither the government nor the people accept the legitimacy of the US charges," it says.
The Global Times' Chinese edition observes that the charges come amid an an Asia security summit in Shanghai, and points out that "Washington is trying to use the occasion to smear Beijing".
It also urges the Chinese government to do more to retaliate against the accusation. "The government should encourage those departments and individuals whose internet security has been violated to stand up to the charges," it adds.
Meanwhile, papers are discussing a possible gas supply deal with Russia as President Vladimir Putin arrived in China for a two-day state visit on Tuesday.
Expectations are high that Russia's state-owned Gazprom is likely to sign a deal to supply natural gas to the China National Petroleum Corp (CNPC) for the next 30 years.
Although the two firms could not agree on prices on Tuesday, experts are optimistic that a deal can be struck "in the future".
Xia Yishan, a researcher at the China Institute of International Studies, tells the China Radio International that Beijing's demand for energy products remains high as the economy continues to develop.
"China lacks resources in oil and gas, and requires large amounts of imports from diverse sources, so Russia is an important energy source for China," he says.
According to the Securities Times, the "rivalry between the West and Russia" amid the ongoing crisis in Ukraine will prompt the US and the EU to turn to Middle Eastern countries for energy resources.
"Russia has been searching for countries for its energy exports, and China will benefit from it… The bilateral co-operation in energy resources is viewed as long-term with China's demand for energy resources increasing and Russia looking for new buyers," it says.
Feng Yujun, a Russia affairs expert at the China Institute of Contemporary International Relations, states that the "market condition" is favourable for China because the EU will try to diversify its imports because of possible sanctions on Russia due to the crisis in Ukraine.
"China is not in a hurry… Even if the talk fails this time round, it will succeed later," he tells the 21st Century Business Herald.
'Home-grown' operating systems
And finally, media and experts expect a "locally developed" operating system to replace Microsoft Windows 8 after the authorities banned its use on government computers.
The Xinhua news agency reports that security concerns related to foreign operating systems led to the ban.
It says Beijing felt compelled to act after Microsoft ended security support for its Windows XP operating system, which is still widely used in China.
Citing similar observations, experts analyse that "information security" is likely to remain a major concern for the government in the near future.
Wu Hequan, an information security expert, tells the Beijing Times that the ban will provide a good opportunity for "home-grown" operating systems to develop and become "an important choice" in the future.
However, IT analyst Xiang Ligang notes that locally developed operating systems lack market recognition and support.
"The people cannot be forced to purchase local systems. The government units need to start using these systems and encourage competition among the manufacturers to introduce better products before a production chain is formed," he tells the Beijing Youth Daily.
BBC Monitoring reports and analyses news from TV, radio, web and print media around the world. For more reports from BBC Monitoring, click here. You can follow BBC Monitoring on Twitter and Facebook.