China media: Bitcoin's future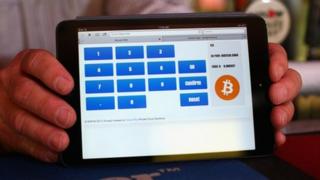 Media and experts have mixed views about the future of Bitcoin in China following reports of fresh action by Beijing to restrict trade in the virtual currency.
BTC China, the world's largest Bitcoin operator by trading volume, has said that local payment companies have been blocked from providing it with clearing services.
It means that the firm can no longer accept yuan-based deposits.
GT Zhou, an experienced Bitcoin trader, tells the Beijing Times that the virtual currency "is unlikely to exit the Chinese market, but investors need to be cautious about the risks involved".
Another unnamed trader tells the Bejing Times that "Bitcoin value had been rising sharply in the Chinese market until the latest measures were announced. The margin for profits is falling now and the trading may completely move out of China".
Sina news portal echoes similar views, saying "the virtual currency has posed a threat to China's capital control and there are concerns that China would take further measures to limit the development of the Bitcoin".
However, Li Qiyuan, the CEO of BTC China, tells the Oriental Morning Post that "his website will not close down and they are not planning to trade in the US dollars because the central bank has not made the trading of Bitcoin illegal in China".
Finding love
Moving on to political news, most websites and papers are giving prominent coverage to President Xi Jinping's statement that the central government's stand on the election of Hong Kong's next chief executive by universal suffrage in 2017 has been "consistent and clear".
"Mr Xi expressed hope that people from all walks of life in Hong Kong would unite and lay the foundation for a smooth election during a meeting with Hong Kong Chief Executive CY Leung," Xinhua reports.
The Southern Metropolis Daily says Mr Xi and Mr Leung had a "pragmatic discussion" on the issue, while the Ta Kung Pao sees the talks as Beijing's backing of the Hong Kong chief's work.
Meanwhile, the Global Times reports that China is "ready" to send a probe mission to Mars after the successful soft-landing of its rover on the Moon.
"We have the potential to go there (Mars) in the wake of the successes of the Chang'e-1 and Chang'e-2 Moon missions," the paper quotes Wu Weiren, chief designer of China's lunar probe programme, as saying.
And finally, a special blind-dating event was organised for civil servants recently because "more and more unmarried people are too busy to search for their love", the People's Daily reports.
"More than 3,000 civil servants from central government and institutions searched for their other half at the blind date party in Beijing," it adds.
BBC Monitoring reports and analyses news from TV, radio, web and print media around the world. For more reports from BBC Monitoring, click here. You can follow BBC Monitoring on Twitter and Facebook.