Xinjiang violence: China arrests six over deadly clash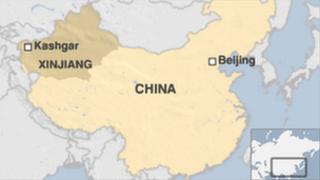 Six people have been detained following a deadly clash in China's western region of Xinjiang, government officials have said.
The arrests came after 16 people were killed in a village near the city of Kashgar late on Sunday.
State media say the violence broke out when police trying to make arrests were attacked by people armed with explosive devices and knives.
Xinjiang, home to the Muslim Uighur minority group, sees sporadic clashes.
The government traditionally blames extremists for the violence, while Uighur activists point to ethnic tensions and tight Chinese control as triggers for violence.
Verifying reports from the region is difficult because the information flow out of Xinjiang is tightly controlled.
News of the latest clash first emerged on the state-run regional Tianshan news portal.
According to the media outlet, police had entered a house where they discovered an illegal gathering. Security forces shot 14 attackers, and two officers were stabbed to death.
The government called the incident "an organised, violent terror attack".
Last month, state media reported nine civilians and two police were killed in an attack on a police station near Kashgar.
In late October, five people were killed when a car ploughed into a crowd and then burst into flames in Beijing's Tiananmen Square.
Beijing called the incident a terrorist attack inspired by Xinjiang-linked extremists. Three people who died inside the car were identified by police as Xinjiang Uighurs.