China eye-gouge case: Boy is discharged from hospital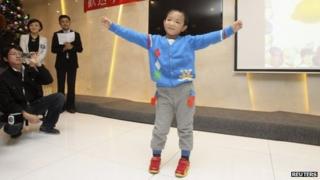 The Chinese boy whose eyes were gouged out in an attack in August has been discharged from a hospital in the southern city of Shenzhen.
Guo Bin has undergone a series of operations to give him prosthetic eyes to make his appearance natural.
Although the eyes will not restore his vision, doctors hope to fit him with sensors that will allow him to get around on his own in familiar places.
Police suspect his late aunt carried out the attack.
Six days after the incident, she reportedly killed herself by jumping into a well. Her motive for the attack remains unclear.
Guo Bin - nicknamed Binbin - danced to music at a send-off ceremony at the C-MER Dennis Lam Eye Hospital, where he was treated, correspondents say.
The prosthetic eyes look and move much like normal eyes, but do not restore vision, doctors say. The hope is that by next summer he will receive navigation sensors that would allow him to improve his mobility.
Binbin's mother Wang Wenli on Thursday told local media that he can now put on his clothes, brush his teeth and climb stairs by himself.
"He has adapted well and is smart," she said before thanking medical staff.
The attack horrified the Chinese public and added to outrage over violence against children.