China media: 'Air defence zone'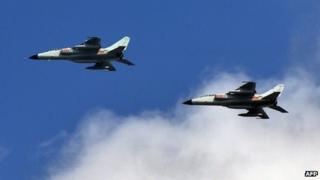 Chinese official media hit back at Japan and the US for challenging China's new national defence perimeter, which covers disputed waters.
Many newspapers and military pundits in China are reacting angrily to protests by Japan as well as concerns voiced by the US over an "air defence identification zone" that was unveiled by Beijing on Saturday.
Japan has accused China of "unilaterally" setting up the zone and described it as "totally unacceptable".
The zone includes disputed East China Sea islands known as Senkaku in Japan and Diaoyu in mainland China and Taiwan. Japan controls the islands.
Besides rebuking Japan, the Chinese foreign ministry also protested to the US ambassador after the White House, Pentagon and US State Department all voiced concern over the move.
In today's People's Daily Overseas Edition, officials at the Chinese Ministry of National Defence accuse certain unnamed countries of "overreacting" with "double standards and hegemonist logic" by "making unwarranted charges and hype" over China's defence zone.
"What's puzzling is that some countries have never been 'concerned' over Japan mapping out its air defence identification zone right up to China's doorstep in the last few decades, so how come they are expressing 'concern' at an air defence identification zone that has only just been mapped out by China?" says the Liberation Army Daily.
The Global Times warns that Chinese fighter jets will attack in self-defence if Japan tries to intercept them in the air defence perimeter.
"China has not declared who the air defence identification zone is targeted at, but it will definitely fight back resolutely against wildly arrogant provocateurs to the air defence identification zone," it concludes.
The newspaper calls for China and Japan to set up a crisis management system for territorial disputes to avoid an outbreak of conflict.
It also believes that the US has still "not given any indication that it would intervene directly" in a Sino-Japanese conflict.
Meanwhile, the Beijing Times and other papers are carrying a notice by the Chinese embassy in Tokyo asking nationals to register in case of a "major unexpected emergency".
Qingdao blast
In other international news, Xinhua news agency praises Beijing's role in brokering and "lubricating" a historic deal reached between Iran and the P5 Plus One - the five permanent members of the UN Security Council plus Germany - on Saturday.
The new deal is aimed at curbing Tehran's nuclear programme in exchange for the easing of international sanctions.
"Whenever the talks on the Iranian nuclear issue stalled, the parties would take the initiative to engage in communications with China... The thinking skills as well as the diplomatic philosophy of the Chinese were often able to pull the Iranian nuclear issue negotiations back onto the track of peace to avoid a breakdown in negotiations," Middle East expert Li Shaoxian writes in the People's Daily.
Turning to domestic news, public anger continues to mount over an oil leak in Qingdao, Shandong province, which led to explosions that killed at least 55 people and injured at least 166 people on Friday, according to state media.
Nine people are still missing, says the China News Service.
The cause of the explosions remains unclear. However, the People's Daily asks why it took more than seven hours for local residents living near the pipeline to be informed about the leaks and evacuated after the blast occurred at 03:00 local time (19:00 GMT).
The state-run oil giant Sinopec has apologised for the disaster but denied it was slow to respond, saying it reported the leak to police and firefighters immediately, says the Global Times.
Furthermore, China Daily and other newspapers are asking why the leaking oil pipeline was built so close to the city's underground utility pipeline network and a residential area.
The Beijing News says the Qingdao blast is symptomatic of a widespread problem of governments and companies ignoring infrastructural security risks in many cities across the country.
"Too many cities and responsible units have become accustomed to security risks being buried underground for a long time and are even well aware of the risks underground, but they will not make any changes unless lives are lost," it warns.
BBC Monitoring reports and analyses news from TV, radio, web and print media around the world. For more reports from BBC Monitoring, click here. You can follow BBC Monitoring on Twitter and Facebook.