China media: Aid to typhoon-hit Philippines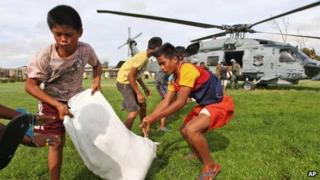 Chinese media continue to defend the level of Beijing's aid to the typhoon-hit Philippines amid ongoing international media criticism.
A Foreign Ministry spokesman says the Chinese government has finally received approval from Manila to send an emergency medical team and the navy's Peace Ark hospital ship to the Philippines within the next few days, the official Xinhua news agency reports.
The first batch of Chinese humanitarian aid for the disaster survivors, including tents and blankets, arrived on Monday in the central Philippine city of Cebu - a centre for relief goods distribution.
However, China's initial relatively low offer of $100,000 (£60,000) in humanitarian aid triggered criticism from some media outlets.
"Since Typhoon Haiyan hit the Philippines hard, certain Western media outlets have made improper comments and flagrant charges against China's aid to the Philippines, trying to turn humanitarian aid operations in the disaster zones of the Philippines into a geopolitical contest," says the Guangming Daily.
Besides hitting back at foreign media, Ta Kung Pao, a Beijing-backed Hong Kong newspaper, goes a step further and accuses the Philippine government of not giving landing permission earlier to Chinese aircraft transporting relief supplies to Cebu.
"Rescue efforts should not be muddled with political considerations... The Philippines' attitude to China's relief efforts is barely satisfactory... In the entire rescue process, even the government is a mess," it says.
Over in Hong Kong, the Philippines has paid compensation to the family of one of the survivors of a bus hostage siege in Manila that killed eight Hong Kong tourists.
The 11-hour siege in 2010 started when aggrieved Filipino policeman Rolando Mendoza took over a Hong Kong tour bus in Manila. A breakdown in negotiations prompted him to open fire on his hostages before he was gunned down.
The undisclosed sum of money, which was donated by an unnamed Filipino businessman, will help pay for jaw surgery for Yik Siu-ling, who lost two-thirds of her jaw when she was shot in the face by Mendoza, Hong Kong's South China Morning Post reports.
Nevertheless, Wen Wei Po, a Beijing-backed Hong Kong newspaper, says the Hong Kong government must continue to press Manila amid a threat of sanctions.
"Just as the Hong Kong government has dealt separately with the hostage incident and disaster relief, the Philippine authorities should be entirely able to make the same response," says the newspaper.
The victims have been demanding a formal apology and compensation from the Philippine government.
'Double standards'
In other international news, official media, including Xinhua and the Global Times, say Chinese internet users are mocking and accusing the Japanese government of "double standards" after it opposed plans by South Korea to erect a statue in China to commemorate Ahn Jung-geun.
Ahn Jung-geun was a Korean independence activist who shot the Japanese governor of Korea in 1909 in the Chinese city of Harbin during Tokyo's occupation of the region.
He is hailed as a freedom fighter in Korea, but as a criminal terrorist in Japan. He was later executed by Japanese authorities.
And finally, two of the most controversial court cases of 2013 involving a gang rape and a toddler being thrown to the ground are back in the news again after the defendants appealed against their convictions.
On Tuesday, Li Guanfeng (formerly known as Li Tianyi), the son of two famous military singers, reportedly pleaded innocent against a 10-year jail sentence after being found guilty of involvement in the gang rape of a woman in a hotel room in Beijing, according to the China News Service.
Also in Beijing on Tuesday, Han Lei, who was sentenced to death for killing a two-year-old girl by hurling her to the ground during an argument with her mother over a car parking space, appeared in a high court to challenge his conviction.
Han insisted that he did not know that he had thrown a child from a handcart until later, when he was informed by his friends.
However, a court prosecutor said that two witnesses heard Han murmur something involving the word "child" as he made the hurling movement, The Beijing News reports.
Han denied using the word "child" and called for the court to give him and the two witnesses a lie-detector test.
The high court did not announce a ruling on Tuesday.
BBC Monitoring reports and analyses news from TV, radio, web and print media around the world. For more reports from BBC Monitoring, click here. You can follow BBC Monitoring on Twitter and Facebook.