Bo Xilai admits to China trial he 'made mistakes'
24 August 2013

From the section

China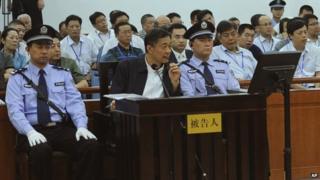 Former top Chinese politician Bo Xilai has admitted he "made mistakes", but denied all charges against him.
Addressing accusations of covering up the murder of a UK businessman, Mr Bo said he made "serious errors of judgement" but that the charges against him were "exaggerated".
He also denied embezzlement, saying he did not know his wife had stolen public funds until after the incident.
The scandals involving Mr Bo's family have captivated the country.
Before his fall from grace, Mr Bo was the Communist Party chief in the city of Chongqing and one of the most influential men in China.
He is accused of bribery, corruption and abusing his office by using his position to cover up for his wife Gu Kailai, who has been convicted of murdering the businessman Neil Heywood in 2011.
Many analysts assume the outcome of the trial, which will resume for a fourth day on Sunday, has been predetermined - with a guilty verdict.
But observers say Mr Bo has given what, for China, is an unusually vigorous defence.
They say the court hearing is as much about getting rid of a popular politician as it is about criminal wrongdoing.
Foreign media are not allowed into the trial, but the court in the eastern city of Jinan has been posting regular updates on China's micro-blogging site Weibo (in Mandarin) - translated by the BBC.
'Exaggerated charges'
"On the matter of abuse of office, I made mistakes, this reflected badly on the image of the party and the state. I feel sorry for that," Mr Bo told the Jinan court.
"However I do think the charges against me exaggerated my role in these incidents," he added.
The abuse of office charge stems from accusations that Mr Bo knew and covered up the fact that his wife murdered Neil Heywood in November 2011.
Mr Bo told the court that he had discussed the accusations with her, and his wife told him that she was being framed for the murder.
Much of Saturday's testimony from Mr Bo has centred on two difficult meetings he had with Chongqing's police chief and close associate, Wang Lijun, on 28 and 29 January 2012.
Mr Bo, according to the court's updates, admitted he "did not behave in a calm manner" when Mr Wang accused Gu Kilai of being responsible for Mr Haywood's death.
He told the court he slapped Mr Wang and threw a cup at their second meeting.
"I couldn't control my temper at that moment," the transcript quotes him as saying. "My main thoughts were Wang Lijun wasn't being straight with me. I knew Gu Kailai and Wang Lijun were close. She trusted him most, always telling me nice things about him."
"I always thought Wang Lijun was Gu Kailai's best friend, but Wang suddenly told me Gu committed murder," Mr Bo goes on.
Days after this confrontation, Mr Wang fled to a US consulate to seek asylum, and the scandal became public knowledge.
"I never meant to... protect Gu. I didn't mean to force Wang Lijun away," Mr Bo said.
Wang Lijun also testified at Saturday's proceedings. He has already faced trial for his own actions, and been jailed for 15 years, for defection, power abuse and bribe-taking.
Giving his account of the 29 January meeting at Mr Bo's office, Mr Wang told the court that Mr Bo swore for three minutes before walking round his desk and confronting him.
"He suddenly struck me with his fist and hit my left ear. It was not merely a slap... I found the corner of my mouth was bleeding. Also, there was something flowing out of my ear."
Mr Wang said he told Mr Bo to face the facts, but Mr Bo threw a cup to the floor and said he would never accept it.
Gu Kilai has also testified against her husband. On Friday, Mr Bo described his wife as "insane" because she had implicated him in corruption.
She claimed that wealthy Chinese entrepreneur Xu Ming bought gifts for the family in order to gain favours.
Embezzlement
Mr Bo is also accused of embezzling 5m yuan ($800,000; £524,000) in 2000 which had been earmarked for a construction project in Dalian. Mr Bo was the city's mayor in the 1990s.
But at Saturday's hearing he blamed his wife for this, saying he had no knowledge that she had taken the money until later on.
He did, though, admit "some responsibility" for not doing enough to return the money later on. "I feel ashamed," he told the court.
Mr Bo also mocked another prosecution witness, his former colleague Wang Zhenggang, saying his testimony linking him to the embezzled money was "illogical".
Wang Zhenggang said he saw Mr Bo make a call to his wife in which he explicitly said he would funnel money to the family.
But Mr Bo said : "Is this in line with the way an embezzler would think?... It is not even what the most stupid corruption offender would do."
Mr Bo's downfall was seen as the biggest political shake-up to hit China's ruling elite in decades.
The release of trial proceedings during Mr Bo's hearing are in sharp contrast with Gu's trial in August 2012. That hearing took just one day and few details were released.
The Chinese authorities are on high alert for any unrest that might be triggered by Mr Bo's trial - with police closely guarding a security perimeter that spans several miles around the court.