China media: Food safety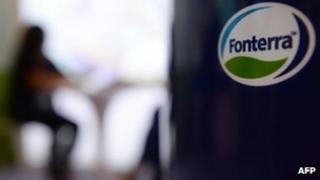 A ban on milk powder imports from New Zealand has once again sparked media concern over the safety of dairy products in China.
China imposed the ban after New Zealand's main dairy exporter, Fonterra, found in some of its products a strain of bacteria that can cause botulism.
Consumer trust has yet to fully recover from a food safety scandal in 2008 when at least six children died and about 300,000 were poisoned after consuming milk powder tainted with melamine, a toxic chemical, made by a state-run company.
"Quality has no borders and those who have blind faith in foreign brands should wake up," says a commentary in the Global Times.
"Food safety is a common problem, and blind faith in 'foreign food' is unwise. 'Foreign foods' are not necessarily the best, and 'made in China' is not all defective," stresses the official Xinhua news agency.
Many newspapers, however, believe that the Fonterra case will not severely affect the preference of many Chinese consumers for dairy products from New Zealand or other foreign countries instead of domestic brands.
"Given that excessive heavy metals, air pollution and other problems are worsening and unchecked pollution levels are intensifying, it will be very hard for the domestic dairy industry to ensure 'no mishaps'. How can they compete with foreign brands?" says a commentary in the International Finance News.
A commentary in The Beijing News says local companies should learn from Fonterra's "timely" disclosure of the contamination and not "shield or cover up" problems.
In other news, the Legal Evening News says four court officials in Shanghai have been suspended from their posts and are under investigation after an anonymous blogger posted a video online of them apparently arm-in-arm with sex workers at a resort hotel nightclub in June.
"As far as nightclubs are concerned, we believe that there needs to be a 'once and for all' solution that not only punishes officials for soliciting prostitutes, but also bans officials from entering nightclubs to engage in all kinds of entertainment," comments the Global Times.
'Human trafficking'
Many newspapers are shocked at how an obstetrician at a hospital in Fuping county in northwest Shaanxi province allegedly sold a newborn baby boy to human traffickers.
Police in central Henan province rescued the baby on Sunday. The doctor, surnamed Zhang, and several other suspects have been arrested. The baby has been sent home and will undergo a DNA test to confirm his identity.
At least seven other families have reported similar experiences to local police in Fuping.
"A healthy newborn baby actually disappeared under the eyes of many healthcare workers... Besides reflecting on the negligence of the parents and relatives, what we want to ask is: Zhang committed crimes at the hospital for a long time, so why did the hospital find no clues at all?" The Beijing News.
Dead pigs are in the news again after tons of rotting carcasses were found floating in a section of the Yangtze River near Yichang, Hubei province, on Saturday. The People's Net says "unscrupulous" villagers have been blamed for dumping the diseased pigs at night.
The Beijing Times says Wang Lin, a "qigong master" in Jiangxi who has faced intense media scrutiny over his wealth and connections with powerful government officials, rich businesspeople and celebrities, is now under investigation for alleged unlawful possession of firearms.
Mr Wang recently sought refuge in Hong Kong amid media reports that he could face a probe for alleged "illegal practice of medicine" and fraud.
Over in Hong Kong, many newspapers are debating clashes that broke out among hundreds of protesters in Mong Kok district.
The clash broke out between supporters and opponents of Lam Wai-si, a school teacher who recently shouted at the Hong Kong police on the street for their handling of a dispute between practitioners of Falun Gong, a spiritual movement banned in mainland China, and a rival "youth association".
The Apple Daily has championed the teacher for standing up for the rights of the Falun Gong to demonstrate against alleged human rights violations, organ harvesting and torture by the ruling Communist Party authorities.
The Oriental Daily News and the Beijing-backed Ta Kung Pao take a dim view of Ms Lam's outspoken rebuke at police officers and condemn her supporters for bringing "chaos" to the city.
BBC Monitoring reports and analyses news from TV, radio, web and print media around the world. For more reports from BBC Monitoring, click here. You can follow BBC Monitoring on Twitter and Facebook.