China media: Fatal stabbings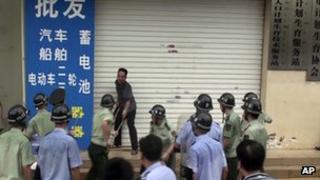 Media raise fears over social stability after one-child policy officials die in another fatal stabbing incident.
A villager has been arrested after he stabbed to death two officials enforcing China's one-child policy in Dongxing, Guangxi.
"Parallels have been drawn between this case and Saturday's Beijing airport explosion, as well as a bus explosion in Xiamen that claimed dozens of lives on 7 June," notes the Global Times.
Some internet users on the microblogging service Sina Weibo expressed sympathy for the man, says the South China Morning Post.
Supermarkets in Beijing are banning sales of knives after a man stabbed four people at a Carrefour shopping centre on Monday that left three wounded and one dead.
"Netizens have already ridiculed the move by questioning if knives are really to blame and if such means can help ensure public security," notes the Global Times.
"The latest incidents in Beijing of people reportedly with mental health problems attacking and killing people in public places have again underscored the urgent need for effective action to prevent such tragedies from occurring again," comments China Daily.
"If the ruling authorities cannot reverse social injustice, narrow a rich-poor divide, eliminate bureaucratic officialdom and combat judicial malpractice to create a fair and equitable social environment where the weak have hope and where most people can live in equality and dignity, cases like the fatal stabbings on the streets of Beijing and the Xiamen bus explosion will not stop," concludes Hong Kong's Oriental Daily News.
'Border UFOs'
Insider sources tip off the Ta Kung Pao, Apple Daily and South China Morning Post that disgraced ex-Chongqing party chief Bo Xilai will be charged with bribery, abuse of power and embezzlement at a public trial in Jinan, Shandong Province, sometime in August.
However there has been no confirmation from Chongqing authorities of the news, not from state media on the mainland.
After being arrested more than two years ago in a massive anti-corruption scandal, the Southern Metropolis Daily says Luo Yinguo, a former party secretary of Maoming city in Guangdong, has finally been given a suspended death sentence of two years for taking bribes and abuse of power.
Guangzhou will offer 72-hour visa-free access to citizens of 43 countries from 1 August. The list names 31 countries in Europe, six in Asia and six in the Americas.
"Norway is a notable exception. Oslo has had tense diplomatic relations with Beijing since dissident Liu Xiaobo was awarded the Nobel Peace Prize in 2010," notes the South China Morning Post.
The South China Morning Post reports that people have been falling ill from poison in fake lamb kebabs containing rat meat.
A major story in the media has been Wang Lin, a "qigong master", reportedly putting a curse on a journalist from The Beijing News for publishing an expose alleging he is a charlatan, says the Global Times.
Mr Wang earlier showed off his "supernatural powers" to Phoenix TV, which included conjuring snakes from an empty bowl and bringing beheaded snakes back to life. The journalist, Zhang Han, however, alleges that such magic powers are a "deceitful trick".
Following a report by the UK's Telegraph on India's UFO sightings on its Himalayan border with China, the Global Times dismisses speculation that they may be Chinese military drones.
"As long as there is the slightest disturbance on the Sino-Indian border 'Line of Control' area, it will make the Indian military jittery and fearful about 'new tricks' adopted by China," the newspaper says.
BBC Monitoring reports and analyses news from TV, radio, web and print media around the world. For more reports from BBC Monitoring, click here. You can follow BBC Monitoring on Twitter and Facebook.