China releases journalist Du Bin from detention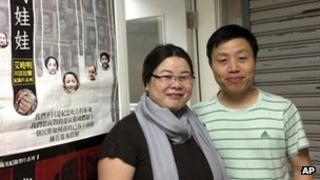 Chinese journalist Du Bin has been conditionally released after five weeks of detention by state security officials.
The film-maker and photographer disappeared days before the anniversary of the Tiananmen killings on 4 June.
He was held at a detention centre in Fengtai district.
He told the BBC that officials questioned him about a book he wrote on the 1989 Tiananmen square crackdown and a documentary he made on a labour camp.
Du Bin said police detained him for "causing a disturbance" and accused him of "spreading rumours online".
They described his book on the Tiananman crackdown as a "fabrication" and said he had "disrupted social order".
Mr Du said he had been released on bail awaiting charges.
However, he cannot leave the city of Beijing without notifying officials, and must be available for further questioning at any point over the next year, he said.
Aside from asking about his book, he said officials questioned him about a documentary he made on China's labour camps.
Police officers had investigated his past all the way back to his situation in primary school, Mr Du said.
He was told that officials wanted to understand "why he turned from a good child to someone who kept digging scars into the government".
Mr Du's most recent book, Tiananmen Massacre, covers accounts of the military crackdown that ended pro-democracy protests in Beijing. It was published in Hong Kong.
He also released a documentary on the Masanjia labour camp in China's Liaoning province, featuring interviews with former inmates.
Plain clothes officers from Beijing's Public Security Bureau arrested him on 1 June from his home in Beijing's Fengtai district, Mr Du said.
He said they took his three computers and two mobile phones and have yet to return them.
Mr Du has previously worked as a freelance photographer for The New York Times.