China media: Ties with Vietnam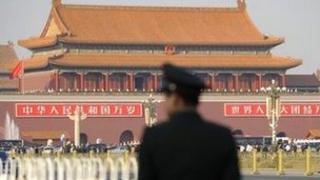 Media discuss relations with Vietnam, controversies over GM soybeans and calls to stop a dog-meat eating festival.
The Global Times welcomes a consensus reached between Vietnamese President Truong Tan Sang and Chinese leaders on resolving territorial disputes
"Vietnam has in recent years shown a trend of 'roping in the US to contain China', but this strategy of Vietnam's has not gone as far as the Philippines and Japan. Vietnam's relationship with the US can only be one of making use of each other, and it will neither dare nor be able to enter the US' embrace completely," it says.
Experts tell the South China Morning Post that Chinese President Xi Jinping hinted at a "more assertive foreign policy" in talks with UN Secretary-General Ban Ki-moon in Beijing.
Mr Xi stressed that China, as a permanent member of the Security Council, should wield more influence in global affairs and step up mediation in international disputes and tackle climate change.
The Global Times says the Chinese foreign ministry and experts have "slammed" a US State Department report downgrading China's efforts to combat human trafficking.
The Hong Kong Economic Journal believes the Hong Kong government has "no independent powers" to deal with fugitive US whistle-blower Edward Snowden.
It says rumours are circulating that the Ministry of Foreign Affairs has sent an official to Hong Kong to resolve the case quickly.
"This official is likely to belong to North American and Oceania Affairs Division under the Ministry of Foreign Affairs, who will handle the matter in a low-key manner. One expects that the official has tried to contact Snowden, so as to assess how valuable the information in his hands is for China," the newspaper says.
In other Hong Kong-related news, the Apple Daily, the Ming Pao and the South China Morning Post say a new University of Hong Kong survey shows that public trust in the Hong Kong and Beijing governments has plunged to the level of 2003 - when more than 500,000 Hong Kong people took to the streets.
Soy beans
Turning to domestic news, the China Central Television expresses shock at a study by a soybean association in northeast Heilongjiang province linking cancer and infertility with the consumption of genetically modified (GM) soybeans.
The association's deputy secretary-general, Wang Xiaoyu, points out that GM soybean-oil consuming regions such as Henan, Hebei, Gansu, Qinghai, Shanghai, Jiangsu, Guangdong and Fujian have a higher incidence of cancer than other provinces that consume peanut or rapeseed oil.
Last week, China's Ministry of Agriculture announced the approval of three varieties of GM soybeans to be imported as processing materials, triggering a divisive debate among experts.
Some experts raise concerns that GM imports are threatening soybean farmers and call for more efforts to protect organic farming, says the Global Times.
However, other experts tell the People's Daily Overseas Edition that the public is at no risk from the GM soybeans that underwent a three-year-long inspection and approval process and that domestically produced soybeans cannot meet demand.
Meanwhile, commentaries in the Southern Metropolis Daily and The Beijing News are calling on university students in Chongqing, Wuhan, Nanjing and other huolu or "oven" cities to press their case for installing air conditioners in dormitories calmly and rationally.
In Nanjing, university students have staged various protests, including throwing water bottles and chairs out of windows and refusing to sleep in sweltering hot dormitories.
Xinhua shows a photo of a Chongqing university student cooling off in a lake while holding up a sign demanding air conditioning in his dormitory. The city is experiencing its hottest June in 48 years with temperatures of up to 38.4 degrees Celsius.
Commentators in the Beijing Times and The Beijing News berate organisers for failing to prevent a stampede as up to 1,000 fans tried to catch a glimpse of David Beckham at Shanghai's Tongji University yesterday.
Finally, the China Daily says animal activists have been rallying to stop up to 10,000 farm-reared dogs in Yulin, in the Guangxi Zhuang autonomous region, being eaten in a "dog meat-eating festival" on summer solstice today.
Xinhua says the traditional practice in the south of eating dogs is triggering heated debate. Dog eating has been banned in Hong Kong for decades, but no ban exists on the mainland.
In an online poll by the China Philanthropy Times and the Sohu news portal, most users support the festival as a custom and believe that dog meat is not different to pork and duck meat.
On Sina news portal, internet users are split over whether caring more for dogs than other livestock is hypocritical or whether eating dogs is "civilised".
BBC Monitoring reports and analyses news from TV, radio, web and print media around the world. For more reports from BBC Monitoring, click here. You can follow BBC Monitoring on Twitter and Facebook.