China media: Miners arrested
6 June 2013

From the section

China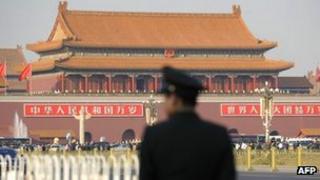 The arrest of 124 suspected Chinese illegal miners in Accra, Ghana, is getting front-page coverage in China's newspapers.
Ghanaian authorities introduced a ban in April on Chinese engaging in illegal gold mining in the central region of Ashanti, as well as in western and eastern regions, to stop environmental damage.
Chinese embassy officials confirmed to Beijing Times, Southern Metropolis Daily and other media outlets that most of the detained Chinese were mining illegally without visa, work and residency permits. No casualties or gunshot wounds among the detainees were reported.
However, Chinese workers in Ghana tell Global Times that the military had robbed and destroyed some Chinese mines and shot at Chinese miners hiding in the jungle during recent crackdowns.
Southern Metropolis Daily says most of the detained workers flocked to the "Ghana gold rush" from the impoverished county of Shanglin in the Guangxi Zhuang Autonomous Region.
"The police will encourage or incite local villagers to engage in looting against Chinese, which has resulted in many fellow county compatriots being robbed and subject to physical abuse by locals. Some of their passports and documents have been destroyed and some lost during the arrests," Su Zhenyu, secretary general of the Chinese Mining Association in Ghana, tells Beijing Youth Daily.
Mr Su complained that many Chinese want to leave, but authorities are demanding that they each pay a $10,000 fine first.
One Shanglin gold mining operator tells The Beijing News that he hid in the mountains for three days surviving on cocoa and bananas and that his mine was looted.
"We bought shotguns to defend ourselves... The current situation is getting worse. We don't get any protection or support from the government. We now want to go back to China, because we fear we may get robbed or killed," another gold prospector tells South China Morning Post.
Anti-dumping probe
In other international news, state media are warning the European Union of further reprisals after Beijing began an anti-dumping and anti-subsidy probe into wines imported from the EU yesterday.
The investigation comes a day after the EU announced temporary anti-dumping levies on imports of Chinese solar panels, cells and wafers following a nine-month investigation.
China Daily quotes the Ministry of Commerce as saying that the investigation of the EU wine industry is not a "retaliatory measure".
However, its commentary says the probe into wine imports "could be followed by more moves if the EU continues to ignore China's interests".
"China has many cards to play, including significant European bonds and investment in EU countries," Global Times says.
It adds, however, that the EU's tariffs also serve as a "wake-up call" for China's solar panel producers to end "unhealthy competition" from undercutting rivals.
During President Xi Jinping's three-day visit to Mexico, Global Times says the two countries "upgraded" their relations to a "comprehensive strategic partnership", strengthening it with the signing of agreements to ease trade imbalances and product rivalry in international markets.
The most interesting aspect of the deals signed is Mexico finally agreeing to export crude oil to China to ease its trade deficit, Beijing Times adds.
China Central Television and other state media have taken note that Michelle Obama will not hold a "first ladies" debut meeting with Mr Xi's wife, Peng Liyuan, in California where he is scheduled to hold informal talks with US President Barack Obama.
'Roughing up citizens'
In domestic news, Oriental Morning Post, China Youth Daily and many other newspapers are dismayed at recent cases of police not taking action to stop urban management (chengguan) officers roughing up citizens.
Last month, traffic police did not turn up to help a student who was beaten up by chengguan in Huaibei, Anhui, for filming "brutal law enforcement" by officers.
In Yan'an, Shaanxi, police did not intervene to stop chengguan beating up the owner of a bicycle shop and stomping on his head while trying to confiscate bikes that they said were blocking the pavement.
Several chengguan were sacked and punished yesterday after an online video of the incident sparked public outrage, The Beijing News reports.
Global Times says "brutal law enforcement" must be condemned and prosecuted, but says all urban management inspectors should not be made "scapegoats" for the rogue behaviour of a few officers.
After at least 120 workers died in a fire at a poultry slaughterhouse in Dehui, Jilin, on Monday, local police have tightened security in case social unrest breaks out during the burial of some of the dead, South China Morning Post reports.
The Beijing News says 17 people are still unaccounted for.
BBC Monitoring reports and analyses news from TV, radio, web and print media around the world. For more reports from BBC Monitoring, click here. You can follow BBC Monitoring on Twitter and Facebook.