China media: Anti-bribery measures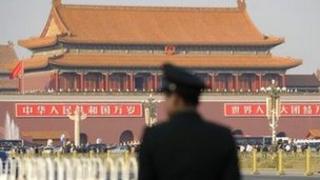 Media discuss the Communist Party's anti-bribery measures, an ideological purge on young teachers and etiquette rules for tourists.
The Beijing News and other media give prominent coverage to the ruling Communist Party's internal watchdog, the Central Commission for Discipline Inspection (CCDI), issuing orders for disciplinary and supervisory officials to ditch prepaid membership cards of expensive clubs before 20 June.
In Global Times, Gao Bo, a researcher at the Chinese Academy of Social Sciences, a government think-tank, says prepaid membership cards for dining, fitness, beauty, leisure and shopping have made officials vulnerable to "hedonism and extravagance" and spread corruption.
China Youth Daily welcomes the move but points out that public mistrust will linger as long as the party insists on "self-purification" and does not open itself to independent supervision.
Hong Kong's Oriental Daily News is even less hopeful and points out that it is already an "open secret" in China that the Central Commission for Discipline Inspection is an "interest group" of officials accumulating wealth through corruption.
Many news portals are also carrying an apology by Hong Kong-based satellite broadcaster Phoenix TV retracting a "false and untrue" report on plans by the CCDI to warn officials that their promotions will be affected if their children do not return to China less than a year after their graduation from foreign schools.
'Ideological supervision'
Xinhua reports that the ruling Communist Party is waging a new ideological rectification campaign that targets young college teachers under the age of 40.
State media today have made public a policy document of "16 opinions" released by the party and the Education Ministry on 4 May calling on colleges to step up ideological supervision on young teachers to prevent them from imparting information to students that could "harm national interests".
Hong Kong's Ming Pao says mainland academics have linked the new drive to an earlier officially unconfirmed rectification campaign known as the "seven taboos".
The drive reportedly bans university courses from raising issues such as media freedom, an independent judiciary, the party's past mistakes and the nouveau riche class.
Zhang Xuezhong, a lecturer at Shanghai's East China University of Politics and Law, tells Hong Kong's Ming Pao that the party is targeting younger teachers because they are closer in age and thinking to students.
Cai Zhiqiang, a Communist Party school professor, tells Global Times that some young teachers have acted indifferently and have even resisted political education.
"Needless to say, Western values have been spreading quite actively in some universities over the years, so reversing this situation has important significance for the whole country's ideology as well as improving the state of public opinion," Global Times says.
Beijing-based commentator Zhang Lifan tells South China Morning Post that the new leaders are realising there is an "unprecedented political crisis" with the "young generation being the most powerful threat that could topple the communist regime".
Tourist etiquette
Global Times and other state media are calling for better civic education after tourism authorities hastily issued a detailed reminder on "civilised behaviour" yesterday for Chinese citizens while travelling abroad.
The Beijing News says the reminder urges tourists to refrain from spitting, littering, noisiness, queue-jumping, harming the environment or wild animals and grabbing too much food at the buffet table. There are even orders to avoid drugs, gambling, pornography and "feudal superstitions".
The reminder comes amid a public uproar over a teenager from Nanjing who scratched "Ding Jinhao was here" in Chinese characters on a 3,500-year-old clay wall at the Temple of Luxor in Egypt. An outraged Chinese tourist posted a photo of it online.
Egyptian tourism officials tell Global Times the damage has been fixed and the incident has not attracted a backlash against Chinese tourists as acts of vandalism are commonplace among foreign tourists.
"Some angry netizens even tracked down Ding, a high school student in Nanjing, Jiangsu province, and hacked the website of his former primary school, altering the site with the message 'Ding Jinhao visited here'," notes China Daily.
Meanwhile, Southern Metropolis Daily, The Beijing News and other media have rebuked police in Kele, Guizhou, for not apologising sooner for handcuffing a 13-year-old girl whom they believed to be an adult last month.
The township secretary and chief of police were suspended after a microblog post surfaced showing the girl being paraded on the streets for "accidentally spilling water on a township government vehicle".
Another story that has triggered an outcry in the mainland media is the case of a migrant worker who had to bargain local fishermen from 12,000 yuan ($1,957; £1,300) down to 3,000 yuan to get them to salvage the bodies of his brother and his brother's girlfriend who drowned in a river in Wenling, Zhejiang, on Saturday night.
A China Youth Daily commentary says the fishermen cannot be blamed for trying to earn a living and calls on authorities to set up adequate rescue services.
BBC Monitoring reports and analyses news from TV, radio, web and print media around the world. For more reports from BBC Monitoring, click here. You can follow BBC Monitoring on Twitter and Facebook.