US and Chinese leaders to hold summit in California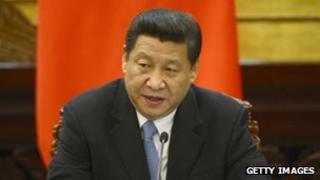 The US and Chinese presidents will hold their first summit in California in June, both sides have announced.
Barack Obama and Xi Jinping will meet from 7-8 June at an estate in Rancho Mirage, a US statement said.
Topics on the agenda are likely to include North Korea, cyber espionage, tensions in the South China Sea and Syria.
The meeting will be the first between the two since Mr Xi was named president of China in March.
Mr Xi, 61, made his first visit as president to Russia, followed by three African nations. He has visited the US in the past, and spent time there as a young man.
The two men would hold "in-depth discussions on a wide range of bilateral, regional and global issues", the White House said.
"They will review progress and challenges in US-China relations over the past four years and discuss ways to enhance co-operation, while constructively managing our differences, in the years ahead."
A statement on the website of China's foreign ministry from spokesman Qin Gang said the two men would have an extensive exchange of views.
"It is believed that this meeting is important to the long-term, sound and steady development of China-US relations, as well as regional and international peace, stability and prosperity," it said.
US National Security Advisor Thomas Donilon is to visit China in late May to prepare for the meeting.
Neither side gave details of topics to be discussed. But the tensions with North Korea in the wake of its third nuclear test on 12 February are likely to be on the agenda, as will Syria - an issue upon which the US is seeking China's support for tougher measures.
Rumbling tensions in both the East China and South China Seas - where China has overlapping territorial claims with multiple nations - are also likely to come up, as is the issue of cyber espionage, a subject upon which the US has become increasingly vocal in recent months.