China media: North Korea warned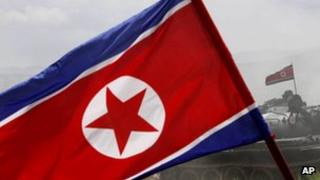 State media in China warn North Korea to stop detaining fishing boats amid public anger over the "kidnapping" of fishermen by unidentified captors.
State media report a Chinese fishing boat and its 16-man crew who were reportedly held for ransom by an armed group in waters off the west coast of North Korea were released early on Tuesday.
Global Times says the incident has "fuelled outrage" among the Chinese public, with internet users venting "fury" towards North Korea, as "traditionally close ties between the nations have been pushed toward greater tension".
A bilingual Global Times editorial suspects that the North Korean army used the ambiguity of maritime borders to "make a quick buck" by detaining the Chinese crew.
"If North Korea continues to go rogue, China should take actions to push it toward a more measured response... If we don't set rules for North Korea, our whole government's image may be seen as being too weak to deal with maritime issues," it stresses.
"Our law enforcement in relevant waters must be strengthened against North Korea's repeated and unwarranted seizures. If our country's waters and the safety of our fishermen are violated, we should fight back and curb this," says The Beijing News.
In Beijing Times, Jia Xudong, a researcher at the China Institute of International Studies, a foreign ministry-affiliated think-tank, calls on North Korea to stop further "wanton" seizures of Chinese fishing boats and "extortion" against Chinese fishermen.
"If mishandled, North Korea's seizure of our fishermen will intensify the antipathy of the Chinese public towards it... This should sound an alarm to North Korea: China will not tolerate any country's rough treatment of Chinese citizens, including fishermen operating at sea," Mr Jia says.
Premier Li Keqiang's ongoing visit to India continues to enjoy positive and high-profile coverage in state media.
However, think-tank experts tell China Daily that India's trade deficit with China will be irreversible in the short term because of India's "poor export advantages and robust import demand".
A People's Daily Overseas Edition commentary says territorial disputes among Asian countries and interference from the "US factor" may become a stumbling block to forging an "Asian Century".
In other international news, Global Times brands the UK parliament's granting of a human rights award to Chen Guangcheng, a blind activist who went into exile after seeking refuge in the US embassy in Beijing last year, another "political tool" to meddle in Beijing's affairs.
"A year's absence from China seems to have made Chen fall out of sync with the changes here... Willingly or not, Chen is playing a highly politicised role in international politics that is out of his own control," the editorial says.
Hong Kong's South China Morning Post foresees a further "chill" in Britain's relations with Beijing over Mr Chen's award.
Turning to domestic news, Southern Metropolis Daily and other newspapers are raising concerns over the judiciary's miscarriages of justice after two men in Zhejiang finally won compensation last week after being wrongfully jailed for 10 years on rape charges.
Global Times says an eight-year-old boy and his stepmother were released on Monday after being held in an illegal "black jail" in Zhuhai for four years for "disturbing social order" while petitioning at a train station in Guangzhou city.
"Petitioning mum" Tang Hui tells South China Morning Post that she is "not optimistic" about winning a damages lawsuit against local authorities after a court overturned a previous dismissal of her compensation claim for an incarceration in a labour camp in Hunan.
Ms Tang accuses the authorities of a cover-up after she failed to bring to justice a number of officials who allegedly raped and forced her teenage daughter into prostitution in 2006.
Guangzhou Daily and Beijing News call for more stringent environmental and quality control checks after China Central Television and other state media revealed that heavy metal pollution is to blame for cadmium-tainted rice being grown in Hunan.
BBC Monitoring reports and analyses news from TV, radio, web and print media around the world. For more reports from BBC Monitoring, click here. You can follow BBC Monitoring on Twitter and Facebook.