China media: Philippines row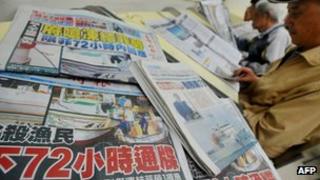 Media discuss the Philippines' response to the fatal shooting of a Taiwanese fisherman, a human rights white paper and suicides and domestic violence among migrant workers.
Media in Taiwan and mainland China hit out at the Philippines' offer to send an envoy to Taipei to apologise for the death of the fisherman - shot by the Philippine coast guard - last week.
"The Philippine government's reaction to the barbaric shooting incident has proved one thing: As an irresponsible country which behaves clumsily in foreign affairs, the Philippines is digging itself into a deeper hole with a rogue diplomatic policy," Beijing's Global Times says.
It warns that Beijing and Taiwan will definitely join hands if the Philippine government continues to shield its "barbarous act" by "wittering on about the 'one-China policy'".
Over in Taiwan, Central Daily News says the Philippines is using the "one-China" policy as an excuse to avoid issuing a formal government apology.
United Daily News says Taipei must not be "half-hearted" on demanding a formal apology and compensation. It says the Philippines is using the "one-China principle" to handle the matter to "play a game of sowing discord" between Taiwan and the mainland.
Liberty Times accuses Taiwan President Ma Ying-jeou of pandering to Beijing by not standing up to the Philippines' use of the "one-China policy" to "dwarf" Taipei.
Want Daily says the fatal shooting, as well as the interception of another Taiwan fishing boat by a Vietnamese vessel yesterday, highlight the need for military co-operation between Taiwan and mainland China against security threats.
Meanwhile, China Times suspects that the US may be trying to play down the conflict. It says the protection of Taiwanese fishermen depends on whether the Taiwan government has the determination and ability to recover national security policy-making power from the hands of the US.
Luo Yuan, a retired People's Liberation Army major-general, tells China News Service that the Ryukyu Islands, which include Okinawa, are part of the Taiwan archipelago, not Japanese territory. He also blames the US for perpetrating Sino-Japanese territorial disputes to "contain" China.
Human rights
People's Daily Overseas Edition hails the government's latest white paper on human rights in 2012 as evidence of China's "miracle" in lifting millions of Chinese out of poverty.
The Beijing News notes that progress on environmental protection was an entire chapter for the first time in the white paper.
Guangzhou Daily flags up how China has reduced the number of death sentences by nearly 20% in 2011, but stresses that it is "unrealistic" to abolish the death penalty entirely because of the country's social conditions and traditional culture.
While welcoming fewer death sentences, Wang Canfa, a law professor at China University of Political Science and Law, tells Hong Kong's South China Morning Post that China's Communist Party-ruled system cannot effectively protect the human rights of its citizens, let alone criminal suspects and detainees.
Academics and internet users are outraged after Li Shenming, a vice-director at the China Academy of Social Sciences, a top government think-tank, dismissed accounts that 30 million people died from famine during the Great Leap Forward as a "deliberate fabrication", South China Morning Post notes.
Writing in party journal Seeking Truth, Mr Li also attracted thousands of angry comments from scholars and bloggers by stating that "no-one was killed" during the Anti-Rightist Movement in the late 1950s.
Migrant workers
The detention of a migrant worker in Shanghai for allegedly stabbing his wife in the abdomen while arguing over where to raise their children and then throwing his one-year-old son on the floor headfirst while visiting his injured wife in hospital has attracted widespread calls for better psychological support for the floating population, says China Daily.
Hong Kong's Oriental Daily News says a 30-year-old male factory worker at the Taiwan-funded electronics manufacturer Foxconn in Zhengzhou, Henan, jumped to his death from a staff dormitory due to alleged "emotional conflicts". It says this is the third case of employees jumping to their deaths at the plant in just half a month.
The ruling Communist Party's mouthpiece, People's Daily, says certain party members and cadres who are as useless as "clay Buddha's" are threatening social stability with their indulgence in material comforts and neglect of official duties.
"Some party members and cadres are 'calcium-deficient' ideologically and 'spineless' in spirit. The inclination of some people to be 'clay Buddha's is getting stronger and their distance from the masses is growing," it warns.
BBC Monitoring reports and analyses news from TV, radio, web and print media around the world. For more reports from BBC Monitoring, click here. You can follow BBC Monitoring on Twitter and Facebook.