China media: Philippine shooting row
13 May 2013

From the section

China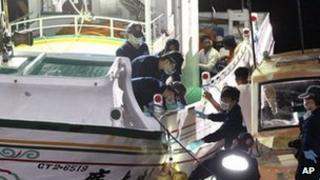 Media in Taiwan and the mainland back Taipei's 72-hour ultimatum issued to Manila to formally apologise for the killing of a Taiwanese fisherman by the Philippine coast guard on 9 May.
If the Philippines does not formally apologise within 72 hours, Taiwan will send warships and fighter jets to the disputed waters in a "show of military strength", Liberty Times reports.
Taipei's Apple Daily says the Taiwan government must not succumb to public anger. It urges Taiwan to request UN mediation if Manila does not apologise.
Taipei's United Daily News also calls for calm and points out that the Philippine government is more likely to soften its stance once domestic elections are over.
Taipei's Central Daily News backs the Taiwan government's response and says "suffering in silence" for fear of antagonising the US will only mean further international marginalisation for the island.
Hacking attacks on Philippine and Taiwan government websites have also broken out with Taipei calling on Manila to investigate attacks originating from Philippine internet protocol addresses, China Times, Apple Daily and other Taiwan media report.
Calls for Taipei and Beijing to join forces if Manila does not respond to Taipei's "ultimatum" have featured prominently in The Beijing News, Global Times and other mainland media today and over the weekend.
In Global Times, Luo Yuan, a well-known mainland military figure, urges the two sides to "jointly resist foreign aggression" and Manila's "illegal and criminal" shooting.
"The South China Sea will ultimately be formed into a sea of peace when all eight islands and reefs occupied illegally by the Philippines are recovered," he says.
Corruption probe
Mainland media are paying tribute to whistleblowing journalist Luo Changping whose anti-corruption crusade against a powerful official has finally paid off after nearly six months.
Xinhua news agency revealed yesterday that Liu Tienan, deputy head of the National Development and Reform Commission, a top economic planning agency, has been placed under investigation for alleged "grave violations of discipline", without revealing further details. Mr Liu was also head of the National Energy Administration (NEA), an energy regulatory body, until March.
Beijing Youth Daily, Qianjiang Evening News and many newspapers are blasting the NEA for initially vowing to take action against Mr Luo, a deputy editor of Beijing business magazine Caijing, for "slander" after he revealed on his microblog that Mr Liu was under investigation for alleged fraud and impropriety.
Southern Metropolis Daily hails the turnaround in the case as a victory for the "common people", while a bilingual editorial by Global Times sees it as a triumph for the Chinese internet.
Anger over quake coverage
In other news, Hong Kong media are flagging up widespread discontent among mainland internet users over official media coverage of yesterday's commemoration of the fifth anniversary of the Wenchuan earthquake in Sichuan in 2008.
Over the weekend and today, People's Daily Overseas Edition and other official media have been praising reconstruction efforts and economic recovery in the disaster areas as an embodiment of the "spirit of China".
"Every sudden disaster is a test, a baptism and a sublimation of the national spirit... Whenever the earth has shook, the international community has seen China's maturity and rationality forged in the face of disaster," Xinhua commented yesterday.
Hong Kong's Oriental Daily News says many internet users are angry at how most official media have failed to mention how thousands of pupils were crushed to death by shoddily built schools during the earthquake.
Five years on, some internet users are also questioning why builders and officials have yet to be punished for the "tofu-dreg" schools, the newspaper adds.
Hong Kong's Apple Daily says some parents who have campaigned for an inquiry into the deaths of their children in collapsed school buildings were held under house arrest or barred entry to mourning sites over the weekend.
Finally, Hong Kong's Ming Pao decries how mainland authorities have reportedly imposed a gag order on universities to avoid seven taboo topics in their curriculum.
The topics include the previous mistakes of the Communist Party, the rich and powerful in society, civil rights, civil society, universal values, press freedom and judicial independence.
"Although this has not been confirmed officially, related news has become a sensitive taboo word on microblogs, which can only be worrying," it comments.
BBC Monitoring reports and analyses news from TV, radio, web and print media around the world. For more reports from BBC Monitoring, click here. You can follow BBC Monitoring on Twitter and Facebook.