China media: Boat attack condemned
10 May 2013

From the section

China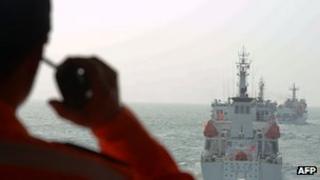 The death of a Taiwanese fisherman, social media "cyber-bullying" and public suspicions over police cover-ups dominate the media.
China Central Television, Xinhua news agency and other state media give high-profile coverage to Beijing's condemnation of the killing of a Taiwanese fisherman by a Philippine government vessel off southern Taiwan on Thursday.
Taipei's China Times says the Taiwan foreign ministry has issued a "solemn protest and condemnation" and demanded that Manila apologise, punish the perpetrators and give compensation.
A bilingual Global Times editorial says that the mainland navy should step up patrols in disputed waters if the Philippine navy was involved in the shooting.
"The Philippines is the most 'barbaric' country in the South China Sea. It has shot Taiwan fishermen in the past. Strong counter-measures are needed to keep the area in order," it concludes.
Meanwhile, academics tell China Daily that Japan has "overreacted" by protesting against a People's Daily article questioning Japan's sovereignty over Okinawa and demanding the return of disputed islands known as the Senkakus in Japan and the Diaoyus in China.
People's Daily also features another commentary by experts saying that the Chinese government has never recognised Japan's "illegal possession" of the disputed Senkaku or Diaoyu islands.
Online rumours
Turning to domestic news, the Beijing News says a woman, surnamed Ma, has been arrested for "spreading rumours" about a female migrant worker from Anhui province, surnamed Ms Yuan, who was found dead outside a wholesale market building in Beijing's Fengtai district last Friday.
Ms Ma reportedly confessed that she spread a rumour online after hearing some people say that Ms Yuan was gang raped by security guards at the market where she worked, which led to her either committing suicide by jumping from the building or possibly being pushed off by the guards.
Police have ruled Ms Yuan's death a suicide and say she did not have any interaction with other people during the hours before she fell to her death.
China Youth Daily and Global Times comment that the police's slow and incomplete information disclosure on the case triggered clashes on Wednesday between riot police and hundreds of migrant workers suspicious of a police cover-up.
Besides the controversy over Ms Yuan's death, Xinhua notes that many internet users also suspect an official cover-up of an unsolved poisoning of Tsinghua University student Zhu Ling. Petitioners are still awaiting a response from the White House on their calls to deport Ms Zhu's former roommate from the US for questioning in the case.
Xinhua says the government must "respect the public's right to know" to dispel doubts and prevent further social unrest.
Mainland media are also abuzz with news that Kong Qingdong, a controversial professor from Peking University, has been ordered to publically apologise for "cyber-bullying" and pay a court fee of 1,000 yuan ($162; £105) and 200 yuan in damages to a university student after branding him online as a dog and traitor to the Chinese.
Guan Kaiyuan, a 22-year-old law student at the China Institute of Industrial Relations in Beijing, had pointed out that Prof Kong's self-composed Tang Dynasty-style poem on his microblog did not rhyme correctly. Prof Kong's angry retort on his microblog has since been deleted.
"The money doesn't matter to me. What mattered was principle. How can a celebrity get away with going around insulting people?" Mr Guan tells South China Morning Post.
Oriental Daily News and other Hong Kong press recall that a "hot-tempered" Prof Kong once blasted Hong Kongers as "dogs of the British colonialists".
Commentators in The Beijing News, Beijing Times and other newspapers condemn Prof Kong's "unprofessional" denunciations, while Global Times calls for stricter regulation of social media in the wake of his outburst.
Earlier this week, Global Times also condemned "Big V" (VIP) or influential well-known microbloggers for inciting social discord.
Southern Metropolis Daily notes how another controversial public figure, 84-year-old economist Mao Yushi, has been abused publically by leftist conservatives for his liberal views.
Global Times points out that Prof Mao has received threatening phone calls for his repudiation of Mao Zedong. It demands tougher regulation as political debates online are escalating into "abusive events in real life".
BBC Monitoring reports and analyses news from TV, radio, web and print media around the world. For more reports from BBC Monitoring, click here. You can follow BBC Monitoring on Twitter and Facebook.