China media: Cyber espionage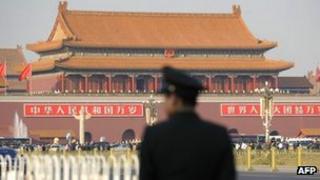 State media accuse the US government of ulterior motives in raising concerns over China's military-build-up and alleged state-backed cyber-espionage.
Xinhua news agency and other party-state media have called a US Department of Defence report on China's military modernisation and alleged state-sponsored military cyber-spying "groundless speculation" that could trigger an arms race in Asia.
Liberation Army Daily says the Annual Report on Military and Security Developments Involving the People's Republic of China has undermined recently improved Sino-US military ties.
It says the report panders to arms dealers with its claims of Beijing's state-backed cyber-spying and growing military threat to Taiwan and Asian neighbours.
China Daily says the report's claims that China began "using improperly drawn straight baseline claims" in September around disputed islands known as the Diaoyu in China and the Senkakus in Japan show that the US is taking Japan's side.
"It is inappropriate as well as unacceptable for the US Department of Defence to point an accusing finger at China over the Diaoyu Islands dispute and make false accusations against China over cybersecurity," it says.
A bilingual Global Times editorial plays down the report as a mirror of the US' fears over China's growing power that cannot derail overall bilateral relations.
"Such reports can no longer really harm us. It is because we care about our reputation and the relationship between the two countries that we feel uncomfortable. As long as we have more confidence, such reports will mean nothing," the editorial concludes.
In People's Daily, historians from the Chinese Academy of Social Sciences, a state-run think-tank, are challenging Japan's sovereignty over the Ryukyu Islands, which include Okinawa.
In response to overseas media reports that the Bank of China has closed the account of North Korea's main foreign exchange bank, Shi Yinhong, an international affairs expert at Beijing's Renmin University tells Hong Kong's South China Morning Post that Beijing is losing patience with Pyongyang.
"Beijing is sending a signal to North Korean leader Kim Jong-un that he'd better stop ignoring China's demands and creating instability on the Korean Peninsula," Prof Shi says.
"Rocket promotions"
Southern Metropolis Daily raises concerns over social inequality and nepotism following a study by Beijing's Tsinghua University on the children of officials earning salaries in their first job that are 15% higher than those of their less privileged peers.
Xu Tao, a 27-year-old son of officials, was demoted yesterday after being promoted from a grassroots government staffer to deputy county head of Xiangtan in Hunan province in just five years, Global Times reports. Although an investigation in April found no irregularities, six officials involved in his promotion were punished last month.
Commentators in The Beijing News and Modern Express call on authorities to explain to a sceptical public how Xu Tao and other young people from well-connected families are able to zoom through the civil service with "rocket promotions".
Beijing Times welcomes calls by the Communist Party's disciplinary watchdog for local authorities not to intercept or detain petitioners heading to the capital to lobby the central government.
Global Times reports how a growing number of Chinese internet users fed up with limited channels to voice their grievances are resorting to posting online petitions on the White House website.
One White House website petition calls for the US government to "remonstrate" with the Chinese government after more than 1,000 people in Kunming protested against a state-run paraxylene (PX) petrochemical project last Sunday.
People's Daily says authorities must take the initiative to improve communication with the public to address pollution fears over PX plants in Kunming and elsewhere.
Sex tape scandal
In Chongqing, 21 government officials and senior managers of state-owned enterprises have been punished in connection with a sex-tape scandal last year in which they were blackmailed after their sex acts were secretly filmed, China Daily reports.
One of the 21, Lei Zhengfu, a former party chief of Chongqing's Beibei district, faces prosecution after whistle-blowing journalist Zhu Ruifeng uploaded screenshots of a video of him allegedly having sex with Zhao Hongxia, a woman hired by developers seeking favours in bids for construction projects, the newspaper adds.
"The long-awaited decision shows the government in Chongqing was forced to make the decision by the weight of public opinion. The government was papering over the problems and did not want to release information immediately and transparently," Mr Zhu tells South China Morning Post.
Xinhua, however, is dismayed at how internet users are championing Ms Zhao for exposing corrupt officials.
BBC Monitoring reports and analyses news from TV, radio, web and print media around the world. For more reports from BBC Monitoring, click here. You can follow BBC Monitoring on Twitter and Facebook.