China media: Middle East mediation
7 May 2013

From the section

China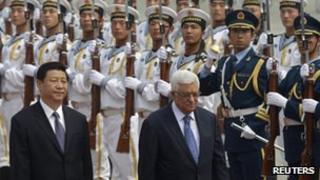 Media encourage visiting Israeli and Palestinian leaders to restart peace talks but experts remain divided on how far Beijing can act as a Middle East peace-broker.
China Central Television and other state media have welcomed Chinese President Xi Jinping's four-point proposal for Palestinian statehood during his talks with Palestinian leader Mahmoud Abbas in Beijing yesterday.
People's Daily features a photo of the two leaders shaking hands and the headline: "China firmly supports the just cause of the Palestinian people".
Mr Abbas is due to leave Beijing tonight, with Israeli Prime Minister Benjamin Netanyahu heading from Shanghai to the capital tomorrow.
Mr Netanyahu's visit comes amid high-profile state television coverage of criticism of Israeli air strikes on a military research centre outside Damascus on Sunday from Beijing, Syria, Iran and other countries.
In interviews with China Central Television and other state media last night, Mr Abbas backed Mr Xi's proposal and said he would be willing to meet Mr Netanyahu at any time if Israel accepted the establishment of two countries based on 1967 borders.
Chinese experts are generally divided on how far Beijing can independently mediate a peace deal on its own without international co-operation.
In Global Times, He Wenping from the Institute of West Asian and African Studies at the Chinese Academy of Social Sciences, a state-run think-tank, says the West should be happy to see a "neutral and balanced" China promoting Palestinian-Israeli peace talks, especially since the US' mediation has been hampered by "favouritism towards Israel".
Prof Yin Gang, an expert on Middle Eastern affairs at the same institute, says Beijing is "very unlikely" to help break the deadlock in the peace talks or host such talks in China, South China Morning Post reports.
Li Shaoxian, a Middle East expert at the China Institutes of Contemporary International Relations, a state security ministry-affiliated think-tank, tells China Daily that China can "hardly match", let alone replace, Washington's role in the Middle East in the near future.
Water quality
Nongfu Spring, one of the China's biggest water producers, is suing Beijing Times for alleging that its bottled water did not meet national water quality standards, but instead adhered to a lower provincial standard.
A press conference descended into a shouting match between Nongfu Spring Chairman Zhong Shanshan, who defended the quality of the water, and reporters from Beijing Times, who stood by their expose.
China Daily says the problem is compounded by bottled-water companies in China using conflicting water standards, including national standards from different ministries, standards from local governments and those set by the companies themselves.
Internet users are calling for the unsolved case of Zhu Ling, a chemistry student at Beijing's Tsinghua University who became permanently disabled after being poisoned with thallium in 1994, to be reopened.
The poisoning death in April of Huang Yang, a graduate student at Shanghai's Fudan University, has sparked public interest in Zhu Ling's case.
Over 100,000 people have already signed a petition on the White House website alleging that Zhu Ling's former Tsinghua roommate, Sun Wei, be deported from the US and face investigation, says Southern Metropolis Daily.
The petition has now reached the signature threshold (100,000 signatures within 30 days) that requires the White House to issue a response.
Hong Kong's Apple Daily notes that Sina Weibo, a microblog service, temporarily blocked searches for keywords such as "Zhu Ling", "Sun Wei" and "thallium poisoning" last week.
However, the ban appears to have been lifted as more and more internet users see the Zhu Ling case as a touchstone for the rule of law in China, University of Hong Kong's China Media Project notes.
"With or without reason, the Zhu Ling case has fuelled the sense among some Chinese that government officials are above the law," China Media Project adds.
A bilingual Global Times editorial urges the public not to be guided by the "presumption of guilt" in assuming that Sun Wei's powerful family connections helped bury the case.
"The White House cannot be the foreign 'petition office' of China. However, embarrassments in the Internet age need not be covered up," it concludes.
BBC Monitoring reports and analyses news from TV, radio, web and print media around the world. For more reports from BBC Monitoring, click here. You can follow BBC Monitoring on Twitter and Facebook.