China prosecutes 'sex-tape' official Lei Zhengfu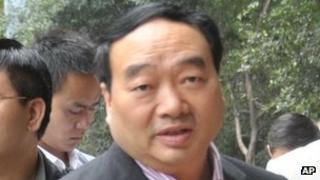 Chinese authorities are to prosecute an official who was filmed having sex with a woman as part of an apparent blackmail attempt, state media report.
The authorities acted after images of Chongqing official Lei Zhengfu went viral on the internet last year.
He was removed from his post, and the Xinhua news agency reports that he will now be prosecuted for corruption.
The businessman who arranged the alleged trap and the woman in the video with Mr Lei will also be charged.
The businessman, Xiao Ye, is accused of luring several officials into so-called "honey traps".
His idea was to use the videos to extort money or ensure favourable contracts for property developments, reports say.
State media said he would be charged with blackmail, and that the woman would face extortion charges.
At least 10 officials have been dismissed as a result of the inquiry.
They include Communist Party and government officials, as well as executives in state-owned companies.
The Communist Party's national leaders have frequently cited corruption as their main concern.
However, the Chongqing blackmail scheme came to light only after it was exposed by blogger Zhu Ruifeng.
Mr Zhu earlier told the BBC that the party's local disciplinary committee had seized a number of similar sex tapes a long time ago, but failed to punish any of the officials involved.