China media: Xinjiang arrests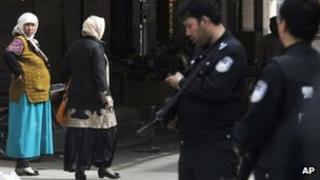 Media discuss the arrests on Monday of more suspects in connection with violent clashes in Xinjiang that left 21 people dead.
A commentary in Hong Kong's Wen Wei Po urges the US to give up its "double standards" on the issue. The paper questions the official stance of the US, which it said viewed the "terrorist massacre" in Xinjiang as a "conflict".
"This cold and even despicable attitude makes the Chinese people speechless and sends a chill to their spines. They have just deplored the loss of lives at the Boston bombing and condemned the culprits," the paper says.
Shanghai's Oriental Morning Post says the suspects had planned to "make a big deal" at a crowded public place in Kashgar, Xinjiang, this summer.
A report in Chengdu Evening News says that 15 police and officials killed in the clashes have now been awarded the title of "counter-terrorism warrior" posthumously.
Meanwhile Chairman of Xinjiang Uighur Autonomous Region Nur Bekri told Xinhua News Agency that this was neither ethnic nor religious conflict, but a separatist movement that left no space for compromise.
Debt/asset ratio
Many newspapers and news portals including Hong Kong's Ta Kung Pao carry a People's Daily editorial condemning international agencies for their gloomy forecasts on the Chinese economy.
The paper says a high debt/asset ratio is not a problem in itself, and to blindly pursue a lower ratio may hinder the growth of East Asia's vibrant economy.
Staying with the economy, news portal Sohu and Xinmin Evening News from Shanghai both carried a warning in China Entrepreneur magazine which said the government's new round of urbanisation drive was making third and fourth-tier cities ghost towns.
China's official think tank, the National Development and Reform Commission, has drafted an urbanisation programme for the period leading up to 2020. It aims to create 400m extra urban dwellers, and consequently offers opportunities for real estate programmes.
Faced with a surplus supply, local land departments still urge developers to launch new projects, the magazine observes.
Five pennies
Many media outlets outside the mainland, including Hong Kong's Ta Kung Pao, have reported the popularity of the translated works by Cheng Hong, wife of Premier Li Keqiang. The series on American classical literature was published in Beijing last year.
Mrs Cheng, a university professor, spent 10 years on translating the four books, according to the report.
Another story that was ignored by the mainland media but very popular elsewhere was the 45th anniversary of the death of Lin Zhao.
Miss Lin was jailed and executed for speaking out against the authorities and her liberal writing under the rule of Chairman Mao.
Hong Kong's Apple Daily urges people to be mindful of the fact that it is still the same government that waited at the door and demanded five pennies from Miss Lin's family to cover the cost of the bullet.
It has been a custom in China for the family to pay for the bullet that executes convicts on death row.
"The five pennies should be sufficient to wake you up to the government's anti-humanitarian and anti-conscious nature. It should be sufficient for you to understand why you can no longer be blindly donating to the government on the mainland."
In a separate article, Apple Daily also reports that about 100 people went to visit Miss Lin's tomb in the eastern city of Suzhou on Monday. They were harassed and beaten by public security personnel, it said.
BBC Monitoring reports and analyses news from TV, radio, web and print media around the world. For more reports from BBC Monitoring, click here. You can follow BBC Monitoring on Twitter and Facebook.