China media: Quake response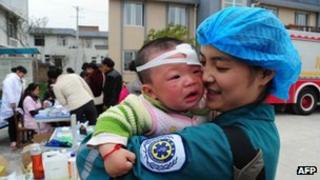 Media in China have praised the authorities' faster response to the Lushan earthquake, but public scepticism over the Chinese Red Cross still lingers.
"Compared with five years ago, the nation has clearly been better prepared this time. Its response has been quicker, the rescue work better organised and social participation wider," China Daily comments.
"China's disaster relief capability has been greatly improved. However its preparation ahead of disasters has been relatively weak, triggering a lot of criticism," a bilingual Global Times editorial notes.
Xinhua news agency also praises the massive relief effort, but notes how some survivors in Lushan have held up cardboard signs complaining about a lack of relief supplies.
"Five hundred people, no food, no water, no tents," read one sign.
Global Times says continual aftershocks, severe road congestion and insufficient relief supplies are also hampering the rescue efforts in Lushan and neighbouring counties.
Experts also warn that rain may bring secondary disasters such as mudslides and damage to dams in the days or even months after Saturday's earthquake, South China Morning Post adds.
Southern Metropolis Daily and The Beijing News urge the public to heed the government's ban on unauthorised volunteers entering disaster areas and adding to the road congestion.
Donors' questions
Despite the flood of volunteers and private donations of clothes and food, some members of the public are reluctant to donate funds to the Red Cross Society of China, China's largest state-sanctioned humanitarian organisation.
Over the weekend, internet users posted hundreds of condemnatory messages and animated thumbs-down emoticons on the Red Cross' official Sina Weibo microblog site.
The organisation's credibility was tarnished after billions of renminbi in donations for victims of the 2008 earthquake in Wenchuan, Sichuan, disappeared.
Following the outpouring of anger by internet users on the Chinese Red Cross microblog, the organisation's executive vice-president, Zhao Baige, has asked for public understanding and pledged greater openness and transparency on how disaster relief funds are used, China Daily reports.
China Youth Daily says it is "extremely inappropriate" for internet users to turn on the Red Cross at a time of disaster and urges the public to donate to the organisation.
"The public can of course continue to express scepticism, but we cannot because give up helping compatriots in earthquake-stricken areas of Lushan because of distrust of an organisation," Beijing Youth Daily commentator Shu Shengxiang adds.
Hong Kong Economic Times says the government must act fast to restore public trust in charity fund-raising, as members of the public in Hong Kong are also worried about funds being misappropriated by officials.
Hong Kong's Ming Pao calls for more transparency on how publically-donated funds are spent and reminds authorities to focus more on building proper earthquake-resistant buildings rather than luxurious government buildings and other "image projects".
The Sun, another Hong Kong newspaper, accuses the State Seismological Bureau of failing to give advance warning of the earthquake.
In international news, a People's Daily Overseas Edition commentary says China's latest human rights report on the US exposes how Washington's "arrogant and insular" concept of human rights has brought "disastrous consequences to the Middle East and other parts of the world.
People's Daily's domestic edition condemns a visit on Sunday by Japanese cabinet ministers to the Yasukuni Shrine - a controversial Shinto shrine in Tokyo where Japan's war dead, including war criminals from World War II, are commemorated - as a "blatant challenge to the existing international order".
Global Times says China should be prepared to withstand economic losses or even "violent confrontation" in taking counter-measures against Tokyo's shrine-visit "provocation".