Hong Kong court hears transsexual wedding case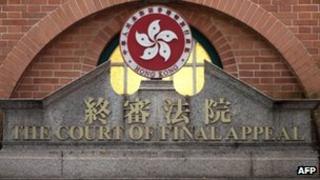 A woman who was born a man has taken her fight to marry her boyfriend to Hong Kong's top court.
The woman, identified only as W, underwent gender change surgery at a public hospital a few years ago.
Her lawyer argues that she is listed as female on her passport and identity card, and considered a woman in every other aspect of her life.
Hong Kong's marriage registry has refused her request because her birth certificate still classes her as male.
The government has argued that she cannot get married as it would constitute a same-sex marriage, which is not legal in Hong Kong.
"The laws of marriage can and should recognise that sexual identity can change," W's lawyer David Pannick said.
He added that the issue of same-sex marriage was not relevant to this case, and that W's gender change surgery had been considered medically necessary, and been performed in a public hospital using government funds.
'Societal consensus'
W's birth certificate, which cannot be changed under Hong Kong law, still classes her as male.
Robert Ribeiro, one of the judges hearing the case on Monday, questioned whether this was an issue that could be resolved through the courts alone. He said the issue may need to be resolved through legislation.
W took her case to the Court of Final Appeal after Hong Kong's High Court ruled against her case in 2010.
At the time, High Court Judge Andrew Cheung said he saw no evidence to support "a shifted societal consensus in present-day Hong Kong regarding marriage to encompass a post-operative transsexual".
Transsexuals who have undergone surgery are allowed to marry in some other parts of the world, including mainland China, EU countries and Canada.
Hong Kong, a British colony until 1997, has a comparatively high degree of autonomy from Beijing.
It is governed under the principle of "one country, two systems", under which China has agreed to give the region a high degree of autonomy and to preserve its economic and social systems for 50 years from the date of the handover.