China media: Remembering Margaret Thatcher
9 April 2013

From the section

China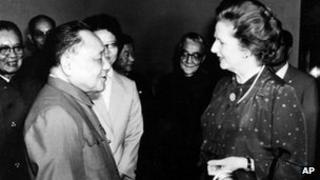 Media in China commemorate the late British Prime Minister Margaret Thatcher and urge authorities to allay public doubts over their handling of bird flu.
The death of former British Prime Minister Margaret Thatcher dominated front-page headlines of many newspapers and news portals in China.
Most experts and media say she left a controversial mixed legacy in terms of economic reform, but praise her for negotiating the smooth handover of former British colony Hong Kong to China and facilitating China's reintegration with the international community.
Feng Zhongping, an expert on European issues at the China Institutes of Contemporary International Relations, tells China Daily that Lady Thatcher was a "realist" who overcame initial concerns to sign a historic agreement with Beijing on Hong Kong's return to Chinese rule in the 1980s.
"She was active in engaging with China and including it in the world system, which helped create a favourable international environment at a key period of China's reforms," Tian Dewen, an expert on European studies at the Chinese Academy of Social Sciences, a government think-tank, also tells China Daily.
Despite China and the US no longer taking "the old Cold War path", Global Times says Europe's new generation of leaders "lack the foresight" of Mrs Thatcher.
It pays tribute to her contributions to the successful handover of Hong Kong and foresight in dealing with the Soviet Union.
Southern Metropolis Daily and many other newspapers recall how Lady Thatcher was only once "beaten back to her original role as a woman" during the protracted negotiations on Hong Kong with late Chinese leader Deng Xiaoping that started in Beijing in 1982.
"After the talks, Mrs Thatcher was obviously distracted amid shock over Deng Xiaoping's extremely firm and stern words and fell down the steps outside the Great Hall of the People," it notes.
The Iron Lady finally "succumbed" to Mr Deng, "an opponent who was harder than steel", Ta Kung Pao, a Beijing-backed Hong Kong newspaper, adds.
"The people of China, including the people of Hong Kong, will not forget the important contributions that she made in the process of Sino-British talks and in facilitating Hong Kong's smooth transition and return to the motherland. Her career should earn a fair and noble historical evaluation," it concludes.
In Apple Daily, politicians and commentators in Hong Kong commend Lady Thatcher's success in ensuring the territory's smooth handover.
However many of them are also disappointed at how she "retreated steadily" in Sino-British negotiations and "failed to defend the best interests of the people of Hong Kong", the newspaper adds.
China-Australia trade
In other international news, Australian Prime Minister Julia Gillard confirmed in Shanghai on Monday that Australia and China will trade directly in their currencies rather than through the US dollar.
The move is seen by some Chinese economists as another step towards the renminbi becoming a major international currency, People's Daily reports.
Turning to the H7N9 bird flu virus, the death toll rose to seven on Monday with the death of a 64-year-old man in Shanghai, Beijing Times reports.
Three new human infections have been recorded in Jiangsu and Shanghai, bringing the total number to 24.
Officials are reminding the public to remain calm and say there is still no evidence of human-to-human transmission or links with recent discoveries of dead pigs, the newspaper adds.
Hong Kong's South China Morning Post says there is still hope in battling the deadly bird flu as a 67-year-old man in Hangzhou and a four-year-old boy in Shanghai are both recovering from the virus.
Experts say migratory birds may have carried H7N9 into China, Xinhua notes.
The Beijing News and China Youth Daily call on authorities to introduce free medical treatment for bird flu victims who are less well-off.
Both newspapers say the public also need answers on why the authorities did not report the first case of bird flu in Shanghai sooner, as well as the cause of death for thousands of pigs in the Yangtze River Delta and several sparrows in Nanjing in recent weeks.
The government of Changsha in Hunan has reassured worried residents that no infectious diseases have been discovered in the pig carcasses in Liuyang river, Global Times reports.
More than 90 dead pigs have been found in Liuyang river, which flows through the city, since the weekend.
The China Cancer Registration Report 2012 shows that air pollution has made cancer the leading cause of death in the country, with one case diagnosed every six minutes, 8,550 new cases every day and one person in every eight dying of cancer, China News Weekly reports.
Oriental Daily News and South China Morning Post flag up an expose by Chinese monthly magazine Lens on the alleged torture and abusive treatment of female prisoners at the Masanjia labour camp in Liaoning, including electrocution and manacles. The article has been deleted from the magazine's website.