China media: Brics as 'global force'
28 March 2013

From the section

China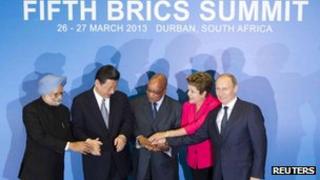 Media hail the Brics as a "global force" for a new world order after the group's summit in Durban.
People's Daily, People's Daily Overseas Edition and other party and state media outlets devote effusive commentaries to the summit and play down global doubts over the group's prospects.
Many state papers including Global Times and China Daily call the Brics a political and economic force that will help promote a fairer and more equal international order.
They remind a "declining" West not to be suspicious or dismissive about Brics.
There is also a lot of upbeat coverage in The Beijing News, China Daily and other media on a mooted Brics reserve fund, as well as a development bank that will finance infrastructure projects among the five members as well as developing countries.
Apple in court
In other news, Apple, the US electronics giant, appeared in court in Shanghai yesterday accused by a local firm of violating intellectual property rights in its software used on Siri, China Daily reports.
The Beijing News notes how Communist Party mouthpiece People's Daily has run commentaries for several days criticizing Apple's services and "unparalleled arrogance".
This follows a public backlash against China Central Television's recent accusations over Apple's "inferior service" for Chinese users.
Global Times adds that street vendors have been arrested for selling paper models of the iPhone 5 as part of an environmental clean-up campaign against burning paper ancestral offerings for the upcoming Tomb-Sweeping Festival in early April.
"Public feasting" ban
Taipei's Apple Daily reports that a 72-year-old woman was crushed to death by a collapsed wall and 86 people were injured during the magnitude-6.1 earthquake in central Taiwan yesterday.
Despite safety assurances from the authorities, many residents in the mainland's Fuzhou were still too afraid to return to their homes yesterday after their 18-storey block tilted after the earthquake, Beijing Times reports.
Beijing Times says the People's Liberation Army General Political Department and the Supreme People's Procuratorate have issued stricter provisions stipulating possible criminal charges for military personnel who disobey orders, surrender to the enemy, flee from combat, defect, leak military secrets or commit other violations of duty.
Ming Pao quotes state media as saying that a ban on officials and soldiers boozing and feasting in public may have contributed to a slump in the food and beverage industry and consumer downturn.
However, People's Net reveals that officials have been secretly feasting on expensive delicacies like sea cucumbers, abalone and lobster and drinking Maotai liquor from "mineral water bottles" at the canteens of state-owned enterprises in Guangdong.
Also in Guangdong, Zhao Haibin, a former policeman nicknamed "House Grandfather" for allegedly buying 192 properties with fake identification, has been "double fired" from his posts in the Communist Party and job in the police on suspicion of forgery, Southern Metropolis Daily reports.
First lady's blog
The government has refuted a China Business Times report on Monday of a 30% gas price hike that triggered nationwide panic buying and long queues for fuel, says Southern Metropolis Daily.
The initiator of Occupy Central, University of Hong Kong academic Dr Benny Tai Yiu-ting, has outlined a four-step plan that will culminate in a mass civil disobedience demonstration in the city's financial district on 1 July next year if the government does not offer a universal suffrage blueprint that is in line with international standards, Apple Daily reports.
Hong Kong's Ta Kung Pao has featured a transcript of a speech on Sunday by Beijing official Qiao Xiaoyang that has triggered fears that Beijing is trying to screen out certain candidates for the 2017 chief executive election and built momentum for Occupy Central movement.
In the speech, Mr Qiao, who heads the Chinese legislature's law committee, says there can be no public consultation on electoral reform until most Hongkongers agree that anyone who "confronts" the central government cannot become chief executive.
Despite Global Times reporting on legions of "fans" following the government's 170,000 microblogs, a Sina Weibo fan microblog dedicated to China's new first lady, Peng Liyuan, has been shut down, South China Morning Post reports.
Finally, photo-shopped photos of "most awesome husband" President Xi Jinping considerately carrying his wife's handbag as they stepped off the plane in Moscow and Dar e Salaam recently have been circulating online, China Media Project at the University of Hong Kong notes.
BBC Monitoring reports and analyses news from TV, radio, web and print media around the world. For more reports from BBC Monitoring, click here. You can follow BBC Monitoring on Twitter and Facebook.