China media: Two sessions
4 March 2013

From the section

China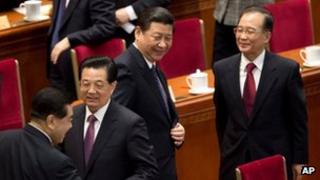 Livelihood, corruption and food safety are among the media highlights of the opening of the "two sessions" of China's national advisory body and legislature.
The Global Times welcomes the lack of pomp at the opening of the "two sessions" of the Chinese People's Political Consultative Conference (CPPCC), the country's top political advisory body, which began on Sunday.
The National People's Congress (NPC), China's legislature, begins its annual session on Tuesday.
The newspaper says no flowers are placed on-site to welcome CPPCC members and the CPPCC session will be paperless, saving more than 2m yuan ($321,200, £213,000) in expenses.
China Daily says public expectations are running high for the two sessions, especially on corruption, pollution, education, healthcare and social security.
Milk controversy
A People's Daily commentary says "sharp criticisms" and "heated debate" on controversial issues such as milk powder purchases, pollution and the property market on Sunday have highlighted the value of democracy.
The Beijing News says "hot social events" such as public concerns over soil pollution, illegal house purchases and child abuse are also spurring delegates to initiate reforms.
Global Times however reminds the public not to let "media hype" and "overzealous reporting" on controversial livelihood problems hijack the agenda at the two sessions.
The NPC is expected to set up a single food and drug agency following a spate of food safety scandals, including tainted milk and recycled gutter oil, sources tell Hong Kong's South China Morning Post.
Authorities say 99% of baby formula milk in mainland China meets quality standards, yet CPPCC advisers on Sunday lamented how China's dairy industry has failed to win back public trust, New Express reports.
Some advisers called for import tariffs on foreign milk powder to be lowered.
The debate follows Hong Kong imposing a two-tin limit on baby milk formula taken into the mainland from last Friday, China Daily reports.
Since then, 45 people, including 26 city residents, have been detained in Hong Kong for trying to smuggle 178 cans of milk powder through customs.
A Global Times commentary says the authorities of "pellet-sized" Hong Kong are "overreacting" by detaining people and says the city should not wreck its greatest advantage of being a "window to the mainland" by antagonising mainlanders.
"We hope this is just Hong Kong's temporary measure for a very short period of time and that Hong Kong can organise supplies to quickly end the current 'embargo', so as to prevent mainlanders forming a dissatisfied stereotype of Hong Kong," the commentary says.
Super ministries
Some analysts have told South China Morning Post that the creation of new super ministries, which is one of the key policy debates expected at the two sessions, could make bureaucracy more entrenched.
Apple Daily says outgoing CPPCC chairman Jia Qinglin's call for upholding the leadership of the Communist Party in his final work report "proves once again that the CPPCC is a flower pot" - an ornamental body of little substance.
The newspaper also says outgoing Premier Wen Jiabao's final work report on Tuesday at the opening of the NPC will "certainly fall short of public expectations".
It says Mr Wen did not fulfil his pledges on political reform or cracking down on the "grey income" of officials.
Hong Kong's Oriental Daily News complains that the high number of "naked" advisers and lawmakers - a term used to denote officials with foreign passports or assets overseas - are turning the two sessions into the "United Nations".
Turning back to the CPPCC's opening session, Western-style inauguration ceremonies for new leaders and family planning restrictions for the less educated were among the "eye-popping proposals" raised on Sunday, South China Morning Post says.
Billionaire Chen Guangbiao, who is attending the two sessions as a guest, says the one-child policy should be scrapped for university graduates, while those who fail to complete nine years of compulsory schooling should not be allowed to have any children unless they live in remote areas, the newspaper reports.
The media are also abuzz over the presence of a number of sports and entertainment industry stars at the two sessions.
Retired basketball star Yao Ming, who is attending his first CPPCC session, says the market should support popular sports like tennis, basketball and football.
The state should subsidise less popular sports like diving, gymnastics and weightlifting, China Daily quotes him as saying.
However Olympic hurdler Liu Xiang's absence again from the CPPCC session is "arousing dissatisfaction among the online population", Xinhua reports.
Mr Liu has asked for leave - due to sporting commitments or injury treatment - in five annual CPPCC sessions over the past six years, the agency notes.