China media: Mekong justice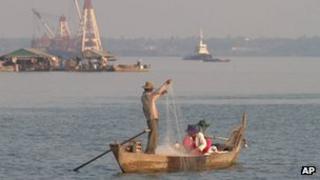 Media in China support the pending execution of a Burmese drug trafficker and see it as long overdue justice for Chinese crewmen murdered on the Mekong River.
China Youth Daily says "the souls of the 13 Chinese crew members can finally be comforted" when Naw Kham, a Burmese drug trafficker, and three of his accomplices - Hsang Kham from Thailand, Zha Xika from Laos, and Yi Lai, stateless - are executed by lethal injection in Kunming in southwest Yunnan later today.
The paper stresses that China had full rights to prosecute the foreigners on its soil.
Naw Kham was captured last April in Laos and extradited to Kunming to stand trial. He was found guilty of leading a gang to hijack two Chinese cargo boats on the Mekong River to ship methamphetamine and abduct 13 Chinese sailors onboard in 2011, Beijing Times reports.
Beijing Times commentator Wang Yunfan says China does not wish to take on a role as the "world's police", but says that the trial and execution of the men on Chinese soil is "in line with the expectations of the absolute majority of citizens".
He Jingjun, associate professor at Southwest University of Political Science and Law in Chongqing and commentator for The Beijing News, welcomes the execution decision as a "milestone in the protection of Chinese citizens overseas".
Liu Yuejin, head of the public ministry's anti-drug bureau, told Global Times that Beijing had considered using drone aircraft to kill Naw Kham and his accomplices on the run in Burma.
"But the plan was put off as we wanted to capture the drug lord alive," Mr Liu was quoted as saying.
In international news, a bilingual Global Times editorial criticises Japanese Prime Minister Shinzo Abe for citing former UK Prime Minister Margaret Thatcher's thoughts on the 1982 Falklands War with Argentina when talking about Tokyo's islands dispute with China.
"By referring to the Falklands War, was he dropping a hint that he would defend 'the rule of law at sea' as Thatcher did?" it asks.
The newspaper also says Japan is "more likely to use force than respect laws" after it scrambled fighter jets yesterday to ward off a Chinese government plane flying towards disputed East China Sea islands.
"Super ministries"
Back in China, the Communist Party on Thursday finalised the nomination of new senior officials and approved a plan to radically streamline government agencies under "super ministries" in the State Council, People's Daily reports.
China Daily says the draft plan "aims to streamline government agencies that may have overlapping functions and generally reduce red tape".
Xu Yaotong, research director at the National School of Administration, a civil service training institute, tells Xinhua that the State Council is unlikely to introduce radical cuts.
"This reform should be seen as fine-tuning. I estimate that three to four departments will be involved. The departments that make up the State Council will be reduced from 27 to around 23 or 24," Xu Yaotong says.
Hong Kong's South China Morning Post notes that Lou Jiwei, a "reformist wealth fund boss", is nominated as the new finance minister.
The party's draft plans will be submitted to lawmakers for review at the National People's Congress (NPC) annual meeting next week.
Beijing Times says the annual "two sessions" of the NPC and Chinese People's Political Consultative Conference (CPPCC), a national advisory body, next week will cut back on conference expenses and require senior delegates to take coaches rather than private cars.
The CPPCC will also hold a "paperless" e-session to save two million yuan ($320,000:£210,000). Red carpet and flower welcoming ceremonies, banquets and gift-giving are all banned to "slam the brakes on extravagance and waste", the newspaper adds.
Smog returns
However, China Daily says Beijing was a "city of sand and smog" yesterday after being hit by thick smog in the morning and a sandstorm in the afternoon. The low visibility disrupted traffic and flights across northern provinces.
"The outside world says delegates will be entering a gas chamber by attending the two sessions in Beijing!" Hong Kong's Oriental Daily News quips.
The newspaper features a photo of retired basketball player Yao Ming, who will attend the two sessions next week, frowning at the sky outside his hotel in Beijing.
Beijing Daily says three astronauts will head out to China's orbiting space station this summer and spend two weeks testing the station's systems for supporting life.
Lastly, new licence plates for military vehicles will be issued from 1 May to stop "wannabe army drivers" from using fake military licence plates to skip parking fees and road tolls and run red lights, says Global Times.
An online campaign called "exposing luxury military cars" features photos of luxury "military cars", such as Bentleys, Maseratis, BMWs and Land Rovers, sporting military licence plates, the newspaper adds.
BBC Monitoring reports and analyses news from TV, radio, web and print media around the world. For more reports from BBC Monitoring, click here. You can follow BBC Monitoring on Twitter and Facebook.