China media: North Korea nuclear test
12 February 2013

From the section

China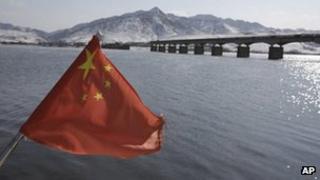 Reports of a nuclear test in North Korea lead major news portals after China Central Television (CCTV) broke the news on Tuesday morning.
State media say residents close to the border in Jilin province felt tremors for over a minute.
However, official media and the government have have not yet commented on the news. Beijing officials and the media usually take time to assess the situation on the Korean Peninsula before formulating a response.
CCTV and Beijing Times also report that China strongly protested on Monday against US sanctions imposed on four Chinese companies and an individual last week for allegedly breaching US laws on curbing the development of weapons of mass destruction by Iran, North Korea and Syria.
The sanctions ban the companies from securing procurement contracts from US government agencies or obtaining new licences for the export of items controlled by export regulations.
A foreign ministry spokeswoman said the US imposed the sanctions according to US law, which "violated the norms of international relations and harmed China's interests", CCTV reports.
"China urges the US to correct its wrongdoing immediately, lift the groundless sanctions against the companies and individuals concerned and stop doing things that harm China's interests and Sino-US relations," the spokeswoman said.
CCTV also aired a statement by one of the companies, Poly Technology, denying any involvement in the allegations and demanding the immediate lifting of sanctions.
According to Hong Kong's South China Morning Post newspaper, Poly Technology is a subsidiary of a government-run company originally founded by the People's Liberation Army.
Turning to Japan, Xinhua says a Chinese marine surveillance ship patrolled waters near disputed East China Sea islands for a second day in a row on Monday. Japan controls the islands, which it calls Senkaku. China calls them the Diaoyu islands.
The Chinese military say that two of their East China Sea fleet fighter jets were scrambled to track an unnamed foreign surveillance aircraft on Sunday, according to China News Service.
The news follows reports by Tokyo's Sankei Shimbun that Japanese fighter jets intercepted a Chinese military reconnaissance aircraft and two fighter jets near airspace over the islands on Saturday night.
Meanwhile, China, Burma and Russia were observer countries at the opening of the US and Thai-led Cobra Gold multi-national military exercises in Thailand on Monday, People's Net reports.
The Year of the Snake is forecast to be challenging for Hong Kong after the city drew number 95, one of the most inauspicious fortune-telling sticks, at a temple ceremony on Monday.
The stick warns Hong Kong residents to beware of siu yan - a Confucian term for inferior or bad people - during the Year of the Snake, Oriental Daily News says.
According to South China Morning Post, Hong Kong last drew unlucky sticks in 2009, year of the global financial crisis, and in 2003, when severe acute respiratory syndrome (SARS) killed hundreds in the city.
In the mainland, the creator of a mysterious fan microblog dedicated to Communist Party leader Xi Jinping, Learning From Xi Fan Club, has bid farewell to his hundreds of thousands of followers, Beijing Morning Post reports.
Some netizens speculate whether migrant worker Zhang Hongming was under pressure to quit the website after revealing his identity in an interview with the Associated Press news agency, South China Morning Post says.
BBC Monitoring reports and analyses news from TV, radio, web and print media around the world. For more reports from BBC Monitoring, click here. You can follow BBC Monitoring on Twitter and Facebook.