China 'jails 10 over illegally detained petitioners'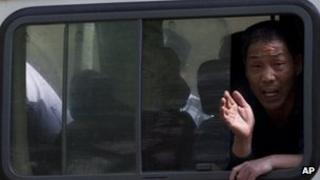 Ten people have been jailed for illegally detaining petitioners who had travelled to Beijing to appeal to the government, Chinese state media say.
The group rounded up 11 petitioners from Henan province in April 2012, Xinhua news agency said, and kept them in a courtyard for several days.
The defendants, who were also from Henan, received terms of between six months and two years.
The court in Beijing said they had violated the petitioners' rights.
The 10 defendants were also ordered to pay compensation to those they detained, the Xinhua report said.
The tradition of petitioning the central government dates back to imperial times, when the emperors would listen to the complaints of common people.
Now, people with grievances at a local level - ranging from land disputes to employment violations to unsolved crimes - can raise their cases with the central government.
But these petitioners are often seen as an embarrassment to local officials, with some intercepted by hired agents and held in illegal detention in what are known as "black jails".
A report from Human Rights Watch in November 2009 said that the use of unlawful detention centres to hold petitioners was widespread.
It said penalties were levied against local officials who failed "to take decisive action" when petitioners from their area sought legal redress in provincial capitals and Beijing.
"The result is that petitioners to Beijing are routinely intercepted, harassed, and detained by government officials and security forces from their home areas intent on ensuring that petitioners are not detected seeking legal redress in Beijing or other major cities," the report said.
The Chinese government until recently denied the existence of such detentions, but has started to acknowledge the practise exists.
In December 2011, Beijing's public security bureau launched a six-month crackdown on such facilities operated by private security firms.
"The city's security market is in complete chaos. Some companies have been operating outside the law," Zhang Bing, deputy head of Beijing's public security bureau, was quoted as saying then by the Global Times newspaper.