China media: Korean tensions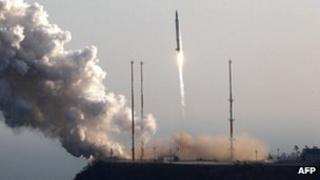 Newspapers express concern over North Korea's reaction to Seoul's recent satellite launch, saying Kim Jong-un's "immature" handling of international relations may fuel tensions in the region.
Experts tell Jiefang Daily newspaper that the satellite launch will bring economic benefits to South Korea but may lead to a "more chaotic" situation on the peninsula.
Global Times quotes South Korean media on secret orders reportedly given by North Korea's young leader Kim Jong-un to bring forward the date of a third nuclear test.
"If he (Kim) is really determined to defy pressure from the international community and let a third nuclear test go ahead, I would say he is too immature, compared with his late father, when it comes to handling regional relations," North Korea expert Lu Chao told the newspaper.
"Pyongyang is intentionally creating tensions before the incoming South Korean President Park Geun-hye has a chance to engage with the North or US President Barack Obama has a chance to shape his North Korea policy for his second tenure," Cui Zhiying at Tongji University adds in Global Times.
Concern over Pyongyang's possible reaction also topped the news agenda on China Central Television's morning news today.
Xinhua news agency's Seoul correspondent says North Korea's reaction is "difficult to determine".
Besides celebrating, Seoul should also "take into account" the sense of grief in North Korea over the launch, Global Times advises.
"It is conceivable that Pyongyang will be angrier and feel that this world is so unfair," the editorial comments.
"The successful launch of the 'Naro' has laid the foundation for South Korea to further develop aerospace technology and it will bring considerable economic benefits to South Korea," People's Daily comments on a positive note.
In the same article, Qu Xing, director of the China Institute of International Studies, a foreign ministry-affiliated think-tank, says South Korea's rocket launch has been "recognised by the international community", unlike Pyongyang's launch that "violated the mainstream trends of the international community".
Central Party School Professor Zhang Liangui also believes the launch will boost South Korea's international standing, but tells China Daily that Seoul's reliance on Russian space technology puts it behind Pyongyang.
"Despite the success, South Korea can hardly do away with Russia's help," Li Daguang, a professor at the University of National Defence, concurs.
In other news, the People's Daily domestic and overseas editions remind the world that China will stick to a "peaceful development path". The commentaries follow Communist Party leader Xi Jinping's vow on Monday to never surrender the national interest in sovereignty disputes.
"China is not the provocative side in disputes with Japan and the Philippines that have occurred in recent years... If China had really taken assertiveness in its strategy as a national policy, Asia wouldn't be what it looks like today," a bilingual Global Times editorial stresses.
The Beijing News says the Chinese navy plans to hold "sea confrontation" training drills near island chains in the western Pacific, the South China Sea and other waters.
Turning to domestic news, The Beijing News reports that smog has spread to 1.43m square kilometers (552,000 sq miles) of the country. China Central Television says" serious pollution" in Beijing, Shanghai and across central and northeast regions is expected to clear by tomorrow evening.
Also on Thursday, China Daily says local legislators and advisors are making shorter speeches in annual sessions under way across the country. They are also scaling back on lavish banquets and taking public transport to cut costs, the newspaper adds.
Oriental Daily News says several Japanese and Hong Kong-run factories in Guangdong have been hit by a spate of clashes between police and striking workers protesting over Chinese New Year bonuses.
As Chinese New Year approaches on 10 February, people returning to their hometowns for the holidays are dreading "interrogations" by parents about their marital status and salaries, Xinhua reports.
"How much did you get for the year-end bonus? Do you have a boyfriend yet? When are you going to get married? The cross-interrogations freak me out," internet user Geng Lu wrote on Sina Weibo.
In Hong Kong, Apple Daily and Oriental Daily News lament the city's drop to a five-year low of 58 among 179 on a Reporters Without Borders press freedom index. Mainland China came in sixth from the bottom, while Taiwan came out top in Asia at 47th.
A petition called "Baby hunger outbreak in Hong Kong, international aid requested" on the White House website is urging the US president to help tackle a shortage of infant milk powder in the city, South China Morning Post reports.
BBC Monitoring reports and analyses news from TV, radio, web and print media around the world. For more reports from BBC Monitoring, click here. You can follow BBC Monitoring on Twitter and Facebook.